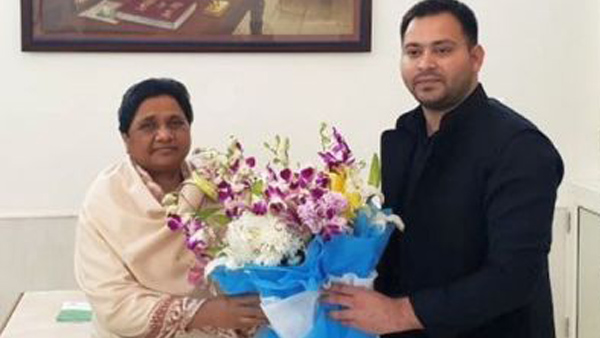 Tejashwi meets Mayawati, attacks BJP on fiddling with the Constitution
Lucknow: RJD leader met BSP Supremo Mayawati at the latter's residence in Lucknow, a day after the declaration of the alliance between Samajwadi Party and Bahujan Samaj Party for the 2019 Lok Sabha elections.
Tejashwi welcomed the move and and also predicted a complete wipe-out of Bharatiya Janata Party from UP in the general elections.
ALSO READ: "Alliance With Akhilesh Yadav Will Leave Modi-Shah Sleepless", Says Mayawati
The Rashtriya Janata Dal leader openly criticized the Central government on the 10% reservation to poor general category, calling it a fiddling with 'Baba Saheb's Constitution'.
He took a dig at BJP by faintly signalling that it is a subsidiary of RSS that is working on the directions of the Sangh .
He said that the Center is working on 'Nagpur laws', owing to the fact that RSS Headquarters are located in Nagpur.
The young politician also said that he and his party are not against PM Modi, they are just against the religious bigotry of the BJP and RSS.
ALSO READ: Supreme Court issues notice to CBI on Sajjan Kumar's plea
As said by Tejashwi, 'this is an ideological fight and not a political one'. He said that his party is working to save the Constitution. The meeting between the two leaders lasted for around two hours.
Tejashwi also gave signs of RJD joining the SP- BSP alliance, saying that it was Laluji's 'dream' to form an alliance with both the parties. After the meeting, he was all praise of Mayawati and called her a great leader.
Talking to media, Tejashwi said that his party will be glorified under the able guidance of the BSP Supremo and also extended birthday wishes to her in advance. He also took to Twitter and praised Mayawati for her achievments.
He said that the alliance of Akhilesh and Mayawati will kickstart BJP'S doom in Uttar Pradesh. He also accused Nitish Kumar of slaying his father and told media that his father is in jail as he refuted the communal forces and didn't follow BJP's orders.
ALSO READ: A cylinder blast sets seven camps at fire in 'Kumbh Mela'
After meeting Tejashwi, the BSP chief said that 'Laluji was a soft target for BJP as he fought against the communal forces'. She said that the talks on an alliance with RLD in Bihar will be held later.
Tejashwi's meeting with SP chief Akhilesh Yadav is scheduled to be held today . The two may discuss on the alliance with the Rashtriya Janata Dal for the upcoming elections.
Keep yourself updated with latest news through Newstrack App. To download App from Google Playstore visit here - Newstrack App