Mulayam reinstates Ram Gopal Yadav in Samajwadi Party
Lucknow: Ram Gopal Yadav, who was sacked from the Samajwadi Party, has been reinstated on Thursday.
A decision to this effect was taken by Samajwadi party President Mulayam Singh Yadav. A statement from Mulayam issued here said, " the expulsion of Ram Gopal Yadav has been cancelled with immediate effect. ram Gopal will continue to perform his duty as leader of SP parliamentary party in Rajya Sabha, party's General Secretary/spokesperson and member of SP Central Parliamentary board ."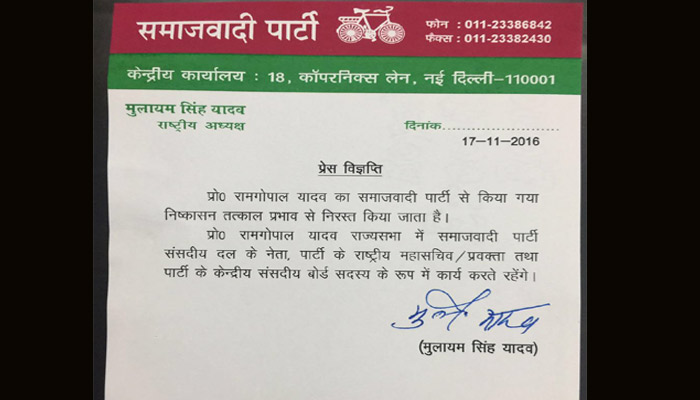 It may be recalled that Yadav was expelled from the party on the charges of conspiring against SP after Shivpal Yadav took over the reigns as the State President of the Party.
After his presence in the Rajya Sabha on Wednesday , it was speculated that the leader would be given another chance by the party's senior leaders.
Also Read: PM has made commoners suffer like beggars, says Ram Gopal Yadav
The Samajwadi Party's feud took a curious turn during the first day of winter session of the parliament when Yadav represented the party in the debate in the Rajya Sabha on recall of currency notes. SP sources said that the Party Supremo Mulayam Singh Yadav had not communicated about RamGopal Yadav's expulsion to the RS Secretariat till the Wednesday evening. It was,therefore, believed that Ram Gopal remained SP leader in the Rajya Sabha and he occupied the seat earmarked for SP's floor leader in the Upper House.
Incidentally, Shivpal's close ally Amar Singh was also present in the house as Yadav took the seat allotted to SP members in the house.
You may also read: 'Conspirator' Ramgopal Yadav expelled from all party posts: Shivpal
In fact, the state Party President Shivpal Singh Yadav had also hinted about his return few days ago when he had said that only the party Supremo Mulayam Singh yadav could take a call on the matter but only if it was placed before the former. Ram Gopal, cousin of Mulayam, had also expressed his disappointed over his expulsion, more because he was charged of the corruption.