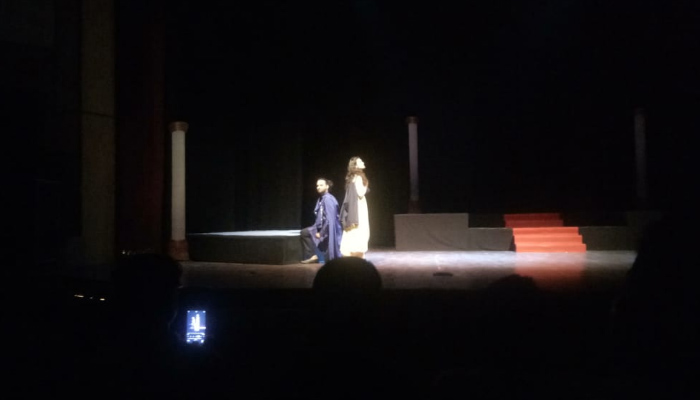 Lucknow takes a time leap with 2500 years old drama 'Antigone' at SNA
Lucknow: The City of Nawabs on April 08, waded through time with 2500 years old, Greek masterpiece 'Antigone' enacted by talented drama artists at Sangeet Natak Akademi, Gomtinagar.
The play breaks down the boundaries of period and time and tries to show case the confrontation between human soul and the fanaticism of worldly power through the projection of emotions and conflicts between Antigone and King Creon and how small and helpless a human is in front of his fate.
ALSO READ: Ayushmann Khurrana completes upcoming flick 'Article 15' shoot
The play 'Antigone' was an adaptation of Sophocles's Trasedy written under the same name in 441 BC. The play brilliantly delivers its central idea with the help of amazing sound effects, excellent artistic approach and astonishing direction, leaving audience perplexed and awestruck.
The drama not only exhibits the courage, belligerent nature and determination of little Antigone wanting her brother to be cremated respectfully by going against the order of King Creon, but also beautifully captures her innocence, her love for life and how much, like everyone else, she fears the death. The conversation between Antigone and guard stirs up the emotions to the point that one may cry feeling the pain and the fright felt by Antigone on hearing that she had been awarded death sentence.
The play was designed and directed by Lalit Singh Pokhariya, who has a experience spanning over 35-years in the field of drama and was translated by Wasi Khan.
ALSO READ: Alia watched 'Zindagi Gulzar Hai', 'Umrao Jaan' to prepare for 'Kalank' role