Modi wave sweeps UP , BJP heads towards two- thirds majority
Lucknow: The early trends suggest that Bharatiya Janata Party (BJP) will make an emphatic win in the state as it is leading at 270 seats so far. The workers of saffron party are full of joy , chanting slogans like, 'Har Har Modi', Vande Matram' 'Gye Gye Gye Gye Gye Akhilesh' and 'Jai Shree Ram'.
BJP workers said they are going to play Bhagwa Holi this time.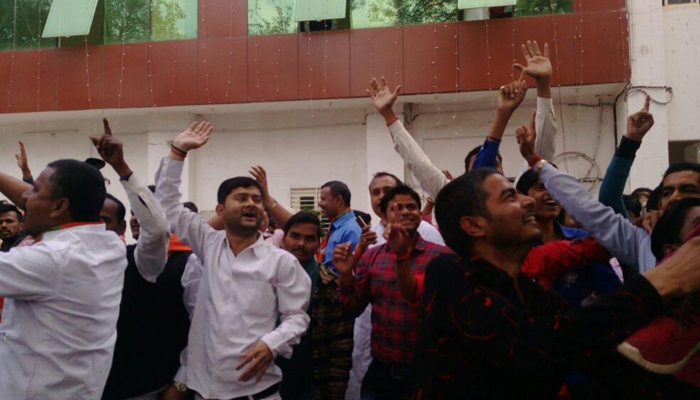 The trends show SP-Cong alliance at the second position with 70 seats, followed by BSP which is leading on 27 seats.
UPDATES ON PARTY TREND:
BJP leads on 6 seats out of 10 in Amethi district

BJP leads with 42% votes in state

Rajnath Singh's son Pankaj leading by 15766 votes .

People have voted for the development, rejecting the SP-Congress alliance in a big way: Yogi Adityanath, BJP.

We respect the mandate, but development has lost and votebank politics has won: Rajiv Shukla, Congress

BJP emerges victorious in Saharanpur Muslim dominated constituency, Deoband.

Bharatiya Janata Party Uttar Pradesh chief Keshav Prasad Maurya called it a Modi wave, saying. it started with 2014 Lok Sabha elections and is continuing in 2017 and the momentum will go beyond the 2019 general election.

This is a win of leadership of PM Modi and Amit Shah's hard work. It has broken all barriers of religion, caste, creed etc: Smriti Irani

Samajwadi Party-Congress came into an alliance for the development of Uttar Pradesh. People did not accept it: R Surjewala, Congress.

UP will not consider opposition parties worthy of contesting again: Sakshi Maharaj, BJP

This is a big victory. BJP has reached new heights in Uttar Pradesh and changed India's political picture: Union Home Minister Rajnath Singh

This is the wave of change. People realised biggest hindrance in development of poor is SP, BSP and Congress: Srikant Sharma, BJP

I thank the people of Jaswant Nagar for my victory. Rest we accept people's mandate: Shivpal Singh Yadav, SP

Excitement among Bharatiya Janata Party members.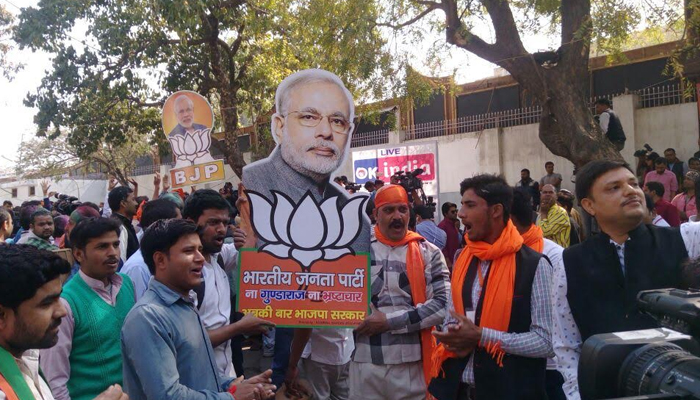 Here are the pics showing silence prevailing in the party offices of the Congress, the Samajwadi Party, the Bahujan Samaj Party and Rashtriya Lok Dal (RLD).