Kanpur woman writes to the President, demands 'mercy killing'
Kanpur: Fed up with harassment by her husband and in-laws, wife of a paint dealer of Mahanagar in Kanpur of Uttar Pradesh has written a letter of pleading to President Pranab Mukherjee, asking for 'mercy killing'.
Kannauj based businessman Rajesh Gupta got her daughter namely Silky remarried to Rohit Agarwal last year after her former husband's demise. After few days of their wedding, Silky came to know that Rohit was already married to four women, one of which was still residing in the same house posed as his elder brother Kapil's wife.
Silky had also alleged that her husband often gave her sedatives and made Kapil have sex with her. The victim was even forced into an abortion when she got pregnant.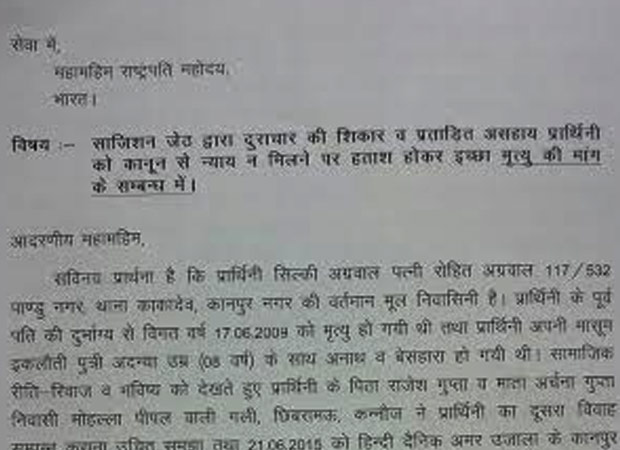 Copy of the victim's letter to the President
Highlights:
The victim had accused her husband and in-laws of domestic violence and harassment.
She had lodged an FIR against her husband and brother-in-law in Kakadeo police station and they were even arrested but later, released on bail.
They were threatening to kill her after their release.
Unable to bear the plight, the victim wrote to the President and demanded for mercy killing.