Election Commission issued notice to BJP MP Sakshi Maharaj
It may be mentioned that last week, Sakshi Maharaj speaking at Sant Sammelan said that," Desh mein samasyaein khadi ho rahi hain jansankhya ke karan. Uske liye Hindu zimmedar nahin hain Zimmedar toh wo hain jo chaar biwion aur chalees bachchon ki baatein karte hain
Meerut: The Election Commission has sent a show cause notice to Bhartiya Janata Party MP Sakshi Maharaj on Tuesday for his inappropriate communal remarks on the population control.
The EC has asked him to file the reply till Wednesday morning.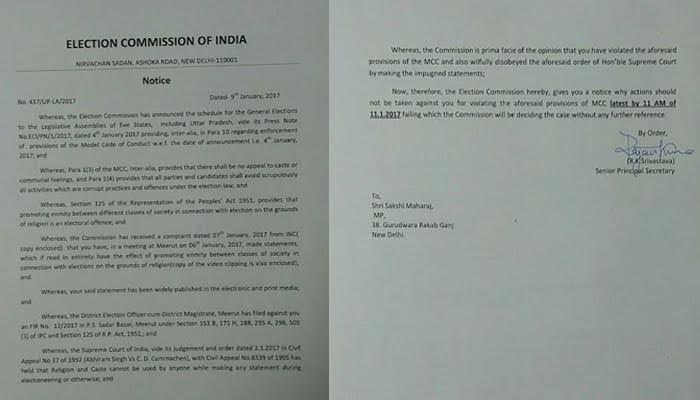 The commission has stated, "prima facie Sakshi Maharaj has violated the model code of Conduct which came into force on January 4 last following announcement of assembly polls in five states, including Uttar Pradesh."
BJP MP blaming the Muslims for the population growth on Friday last, had commented, "Women are not machines and four marriages, 40 children and triple divorce are not acceptable."
It may be mentioned that last week, Sakshi Maharaj speaking at Sant Sammelan said that," Desh mein samasyaein khadi ho rahi hain jansankhya ke karan. Uske liye Hindu zimmedar nahin hain Zimmedar toh wo hain jo chaar biwion aur chalees bachchon ki baatein karte hain.( The problems in the nation occurs because of the growth of population. Hindus are not responsible for that, the one who talk of four wives and 40 children are responsible).
The notice was issued three days after Congress moved the EC on a plea that the MP had violated the Model Code of Conduct.