COVID19: Yogi Govt supplies hand sanitizers to other States
Uttar Pradesh, the country's largest state, has come in front to help other states whenever there is a need.
Lucknow: Uttar Pradesh, the country's largest state, has come in front to help other states whenever there is a need. This time too, when the Corona crisis arose in the country, UP has produced the sanitizer on a war footing and sent it to other states.
Necessary sanitizer is being produced on demand basis in the state for the prevention of pandemic Carona virus. FL-41 licenses have been provided for setting up hand sanitizers to sugar mills, distilleries and drug license holders established in the state at an accelerated pace.
FL41 license issued by UP Govt:
FL-41 licenses have been granted to the latest 27 sugar mill co-distilleries, 12 distilleries and 46 other units in the state. 35,99,242.38 liters have been produced till April 30 in a total of 85 units in the state, of which approximately 14.50 lakh liters have been supplied to other states of the country.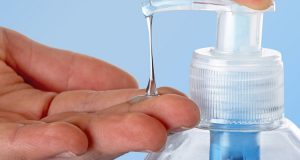 Sanitizer supplied to these states from Uttar Pradesh:
Among the states, Delhi has 2,46,004 liters
Maharashtra 2,89,350 liters
Haryana 4,11,445 liters
Punjab 30,095 liters
Uttarakhand 66,644 liters
Tamil Nadu 25,898 liters
Karnataka 71,510 liters
Madhya Pradesh 18,916 liters
ALSO READ: 'Congress will pay migrants' train fare'; Sonia Gandhi slams Centre
Bihar Took 28,710 litre
22,606 liters to Assam
Odisha 12,805 liters
Rajasthan 25,543 liters
Meghalaya 9899 liters
Kerala 2545 liters
Jharkhand 13,751 liters
Chandigarh has 2,765 liters
Chhattisgarh 3,254 liters
Gujarat 59,637 liters
Jammu and Kashmir 3,705 liters
12,726 liters to Telangana
23,016 liters to West Bengal
60,000 liters to Dadar and Nagar Haveli
620 liters to Nagaland
COVID19 UPDATES: DAY1
The number of corona patients is still increasing at a rapid pace. According to Health Ministry data, more than 42 thousand people have been infected by corona in the country so far and more than 1300 deaths have taken place.
ALSO READ: LIVE Lockdown3 Day1: Cases in India climb to 42533; Death toll at 1373
Stay tuned with the newstrack to get fastest updates. Click @englishnewstrack to follow us on Facebook and @newstrackmedia to follow on Twitter.