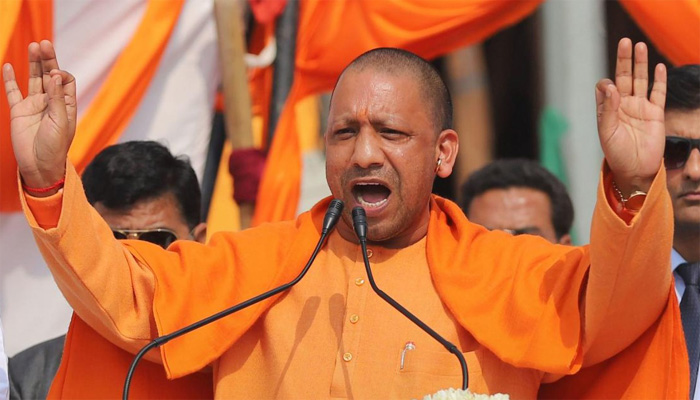 Not forcing anyone to raise 'Jai Shri Ram' slogan: UP CM Yogi Adityanath ( Pic Courtesy: Social Media)
Love jihad is a terminology used by Hindutva groups to describe inter-religious marriages, which they allege involves conversion of the woman – either by force or guile – to marry a Muslim man. Uttar Pradesh Chief Minister Yogi Adityanath on Friday directed senior officials of the state Home Department to prepare a plan to stop incidents of "love jihad", following several such cases reported from different parts of the state, according to senior officials.
ALSO READ: CM Adityanath Announces Ban on Religious or Public Functions Till Sept 30
According to officials, the direction came on the back of multiple incidents reported from Kanpur, Meerut, and a recent one in Lakhimpur Kheri, where the police claim there is evidence that the women were being forced to convert and marry.
CM Adityanath:
"There are increasing cases of love jihad being reported from different parts of the state. Thus the Chief Minister instructed senior Home Department officials to prepare a plan to stop such incidents," Mrityunjay Kumar, media adviser to Adityanath, said.
He said officials have been told to prepare a strategy and see whether a new law is required.
Additional Chief Secretary, Home, Awaneesh Kumar Awasthi, who was part of the informal meeting, said: "This is a social issue. To stop it, they would have to be taken seriously – action needs to be taken against the accused, and we have to be harsh. These days, social media is available everywhere and it goes into the mind of others as well"
Awasthi said while modalities will be worked out, among issues being looked into is to make possible fast-track hearing of such case. As a lot of these matters are pending in courts due to their coronavirus-induced closure. "The accused should not be allowed to get bail; then the woman's family should be given monetary help, etc," he said.
Asked if a new law will be brought in, Awasthi said that as of now the existing law would suffice, but it needs to be implemented properly.
ALSO READ: UP: Retired Cop Shot Himself Dead After Shooting at Son Twice
Adityanath has directed invoking NSA, if required, in the Lakhimpur Kheri case.
Stay tuned with the newstrack to get fastest updates.
Click @englishnewstrack to follow us on Facebook.
and @newstrackmedia to follow on Twitter.
Keep yourself updated with latest news through Newstrack App. To download App from Google Playstore visit here - Newstrack App