Breakthrough survey reveals girls in UP turning more aware
Lucknow: A survey conducted by Human Rights organization 'Breakthrough' revealed that 84 percent girls have started negotiating for their higher education whereas in 2015 this figure was only 61 percent.
Survey further said that about 56 percent girls have started raising their voice against early marriage in their families whereas in 2015 this figure was merely 8 percent.
According to the surveyors, these results show that we are moving in the right direction but concerted efforts need to continue and we look forward to critical support of community, government and non-government organizations and all other stakeholders in this journey.
This survey was conducted by NRMC for Breakthrough.
Addressing a press conference in a hotel in Lucknow, the CEO of Breakthrough Sohini Bhattacharya informed that the organization is working on the issue of adolescent empowerment in 514 gram panchayats, 715 schools of 21 blocks in 7 districts of Uttar Pradesh (namely Lucknow, Gorakhpur, Siddharthnagar, Mahrajganj, Ghazipur, Varanasi and Jaunpur) through its 'De Taali-Banegi Baat Saath Saath' programme.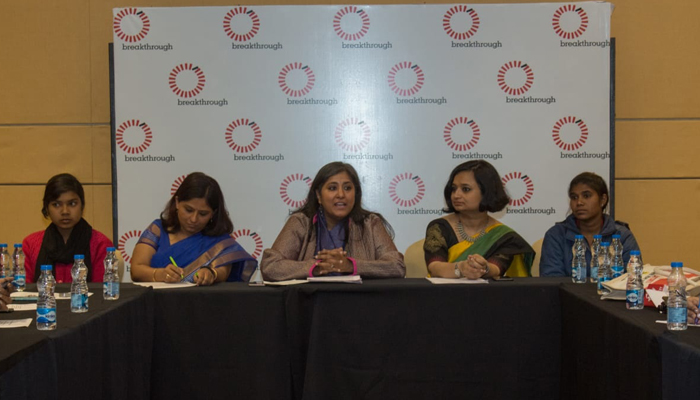 The programme aims at holistic well being and development of adolescents. It focuses on improved individual welfare in domains such as education, healthcare, gender parity and works against ills such as early marriage and gender discrimination.
Through this programme, the institution tries to transform the lives of about 4,00,000 adolescents.
She said, "Since the time we began our work in 2015, many changes have been witnessed in key aspects of lives of adolescents such as education, marriage and their aspirations. We have observed that education acts as a tool to delay marriage, however education till class 12 is considered sufficient and girls who drop out after that are prepared mentally for marriage. About 35 percent girls have started expressing their likes and dislikes related to choice of life partner whereas earlier discussion on such issues was a rarity."
Sohini added, "While at individual level these changes have been witnessed, but the social norms and perceptions have not changed markedly. As far as the aspirations in adolescents is concerned, there has been 42 percent increase since 2015 and of these 35 percent have reasserted their aspirations and dreams before their family members. Their education is now being linked to employment possibilities which is a very positive change. About 95 percent girls have begun negotiating on the class to which they desire to study whereas in Baseline in 2015 only 50 percent expressed this desire within families. Now 38 percent discuss these issues within families on regular basis."
Earlier 50 percent adolescents felt inter gender communication was inappropriate but now only 13 percent hold this view. But this change has not been yet openly accepted by mothers and community on a large. They still feel that boys and girls should talk only when it is very essential.
Change in leisure time for girls has also been seen specially in girls who were earlier burdened with domestic chores. Girls have started expressing their views and need for leisure time. Earlier only 30 percent girls used to talk on their leisure time need with parents. This has increased to 75 percent now. However, girls are not negotiating on reduction in load of domestic responsibilities. They discuss frequently on their need to have some leisure time. A major reason is that girls hardly get relief from domestic chores.
On the other hand, adolescent girls have started discussing on mobility outside homes more now (about 90 percent) whereas earlier this was merely 59 percent. But still restrictions on mobility exist on pretext of their security concerns.