Ram Mandir: 'Bhumi Pujan concludes', PM Narendra lays Silver bricks
The Ram temple pujan in Ayodhya is just few minute away. Ayodhya, the city of Lord Rama, is ready for Bhoomi Pujan.
Ayodhya: The Ram temple pujan in Ayodhya is just few minute away. Ayodhya, the city of Lord Rama, is ready for Bhoomi Pujan. Prime Minister Narendra Modi will reach Ayodhya at 11.30 am.
In Ayodhya, the first Prime Minister Narendra Modi will visit Hanumangarhi where he will worship. Ramjanmabhoomi will go to the campus at 12 noon. The auspicious time of Bhoomi Pujan is at 12.44 pm. Tight security arrangements have been made before the arrival of Prime Minister Narendra Modi.
LIVE UPDATES:
-PM Modi reaches Ram Janm Bhumi, Ram Lalla mandir.
-Prime Minister Modi is following the Corona protocol completely.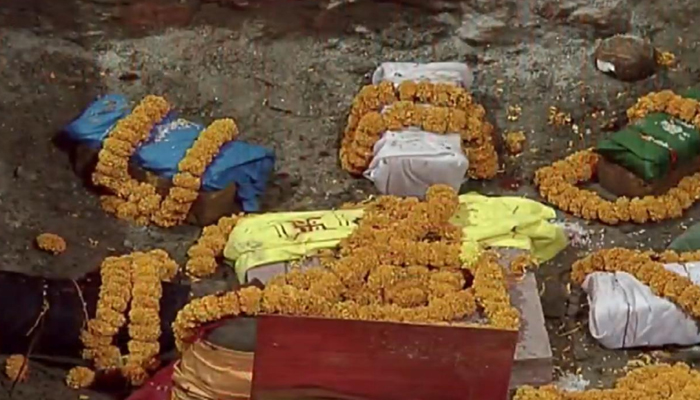 -PM Modi was put on the sway.
-PM will perform puja here, after which they will go to the place of Bhoomi Pujan. There is a belief of worshiping in the Hanumangarhi temple before the sight of Ramlala.
-PM Modi arrived Hanuman Garhi Mandir.
-PM Narendra Modi arrives in Ayodhya to lay the foundation stone of RAM MANDIR.
-PM Narendra Mod's chopper is about to land in Ayodhya City.
-With the rise of Ram Temple, we see national unity in true diversity: UP Cabinet Minister Sidhartha Singh
-Sangh chief Mohan Bhagwat has reached Ayodhya Bhoomi Pujan site.
-PM Modi en route to Ayodhya. Indian Air Force chopper leaves from Lucknow to Saket College, Ayodhya.
-PM Modi dresses up in cultural attire. He is wearing Dhoti Kurta and Gamcha.
ALSO READ: Ayodhya Decked Up For Ram Mandir's Grand 'Bhoomi Pujan' Ceremony
https://twitter.com/newstrackmedia/status/1290881622649090050?s=20
Ram Mandir Pujan:
Ram Janmabhoomi complex and the surrounding area has been declared as Red Zone. SPG has taken command of the security system in the Ram Janmabhoomi complex. Entry has been arranged from the security code in terms of security. For every update related to Ram Mandir Bhoomi Pujan, stay connected with Newstrack.com and keep refreshing the page.
ALSO READ: Ram Janmabhoomi: Digvijaya Singh tweets 'Hey Prabhu, Forgive us'
PM Modi will go to Hanuman Garhi temple at 11.40 am to offer prayers. It is believed that every person coming to Ayodhya sees Lord Hanuman before seeing Lord Rama. Therefore, PM Modi will also go to Hanumangarhi first.
In Hanuman Garhi, Prime Minister Modi will recite a 10-minute puja and then reach the Ram Janmabhoomi complex where he will see Ram Lala. The Prime Minister will plant 'Parijat' in the temple premises at 12.10 pm and then leave for the Bhoomipujan ceremony.
ALSO READ: Advani will not attend Ram Mandir's Grand Bhoomi Pujan Ceremony
Stay tuned with the newstrack to get fastest updates. Click @englishnewstrack to follow us on Facebook. and @newstrackmedia to follow on Twitter.