IAF fighter jets perform in opening ceremony of Lko-Agra expressway
The UP CM said, "The 305 km expressway which was completed in a record time of 23 months, was would reduce the travel time between Delhi and Lucknow from nine hours to around five." The Chief Minister also announced that the inauguration of UP metro would take place on December 1
Lucknow: Strength of a road runway was tested for the first time in the country on Monday with landing and take-off of six fighter jets . The stretch of road where the jets landed is a part of 305-km Agra-Lucknow Expressway which was completed in record 23 months and will reduce the travel-time between union capital and Uttar Pradesh capital by four hours.
The air-show was a part of opening ceremony which was attended, among others, by chief minister Akhilesh Yadav and his former chief minister father Mulayam Singh Yadav.
Sukhoi and Mirage 2000s jets of the Indian Air Force performed the take-off and landing during the function which was held at Unnao, around 50 km from here.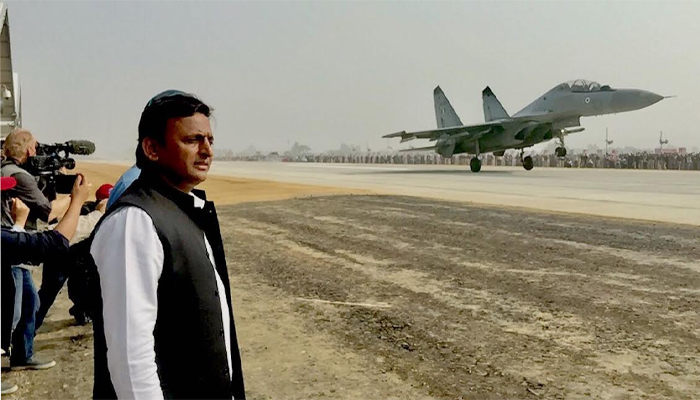 Speaking on the occasion, the former chief minister and the Samajwadi Party chief Mulayam said completion of the project at a record time proved that officials in the state could perform as well as officials in other states if not better.
Akhilesh on the other hand said, " the expressway will reduce the travel time between Delhi and Lucknow from nine hours to around five." He announced that the inauguration of UP metro would take place on December 1.
"It would have been even better if Navneet Sehgal ( who has been hospitalised) had been present here", he said adding motorists should not to exceed the speed limit of 100 kmph while driving on the expressway.
What else Yadav said:
I thank Netaji for attending the function.

We have said in our manifesto that we would make the road after coming to power. The promise has been fulfilled in 21 months.

Samajwadi Government's work is an example for the people in the country .No one can compete with us.

No state has ever built this kind of expressway.

This road would not only increase the speed but also the economy of the state.

We have many more projects in mind and would soon built many more roads if the farmers of the state would cooperate.

We have planned to extend this expressway to Ballia if the government comes to power again.
What Mulayam Singh Yadav said:
People in Uttar Pradesh will benefit the most due to the Lucknow-Agra Expressway.

Officials in Lucknow paid much attention to the construction of this expressway.

They completed the project in just two years though the time for projected for completion it was four years.

Uttar Pradesh is above all states in terms of development.

I congratulate the chief minister and also the officials.

Uttar Pradesh is an example, everyone should follow us.
Also read:
LED truck turned turtle at Lucknow-Agra expressway
UPEIDA CEO Navneet Sehgal injured in a road accident