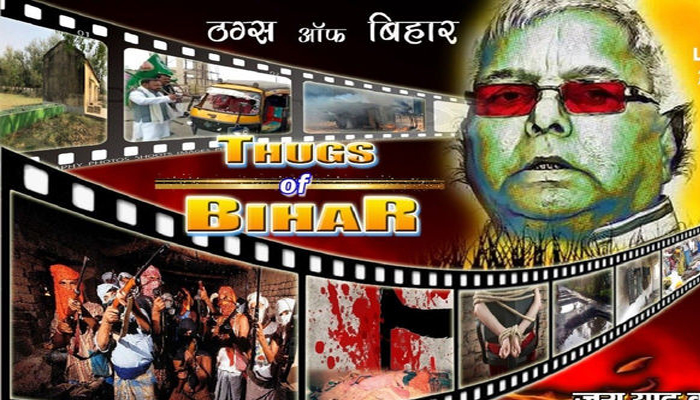 Wall Posters calling Lalu Yadav "Thugs of Bihar" in Patna
Patna: A poster targeting Lalu Yadav and Nitish Kumar says "Lahu Luhaan hua Bihar, Shikari hai Sarkar". After the big win of AAP Arvind Kejriwal, the next election is in Bihar State.
The viral poster tageted Nitish Kumar and showed picture of him as a villian. Also, the poster talks about crimes, poverty, illiteracy, unemployment.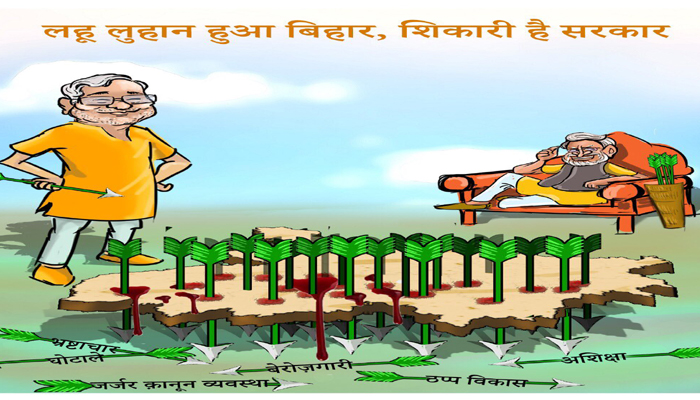 Another poster is gettng viral on social media in which tagline is "Thugs of Bihar".
These posters were placed in capital city of Bihar. Just after the election of Delhi, JDU (Janta Dal United) and RJD.
These posters clearly says public wants a change in political situations and parties. They don't want to see past experiences again. The poster also says "jara yaad karo, vo purani kahani".
JDU-BJP govt in Bihar is not in support of Arvind Kejriwal's vicrory but RJD leader and Lalu Yadav's son Tejashvi Yadav showed his support to Aam Admi Party. He tweeted, "The people of Delhi have given the mandate of development, harmony, love and harmony. The poisonous campaign of poison and hatred that BJP has carried out has resulted. Tell that the man of the Brahmin varna was calling the Vaishya varna man impure and impure when he went to the temple. Terrorists and Pakistanis were telling."
ALSO READ: Oscar 2020: Congress awarded PM Modi for best action, nominated Sitharaman for Comedy