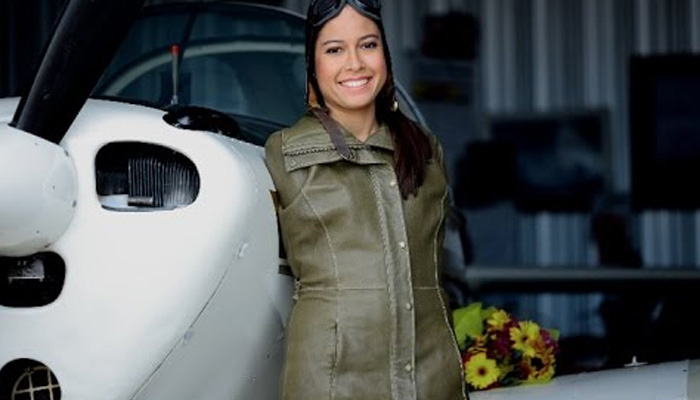 Unbelievable! This armless pilot flies plane and drives car
Lucknow: What's the most important part of your body? Well, for me it is my arms. Have you ever imagined how would your life be without your arms? People who are blessed with it have difficulty in even thinking about it.
ALSO READ: Unbelievable! This country is still in the year '2013'!! Deets inside…
We have heard a lot of inspirational stories about people born without arms or legs but still managing to live their life without any difficulty. You might have heard of an artist without hands or a musician without legs but will you believe me when i will say that there is a pilot without hands and still managing to fly the aircraft?
If you don't I'll show you the truth. You can achieve everything that you set your mind to. No matter the difficulties, there is always a way to reach your target. Jessica Cox is A living proof of that. Dealt with a very unfair hand when she was born, Jessica never gave up on her dreams. She never let her fears distract her from the goals she wanted to achieve.
Jessica Cox went to a regular school, not a to special needs or a private one, she would do everything that all the other kids did in their childhood.
ALSO READ: Technological innovation is one of the key drivers to boost economy:VP
She danced in front of a crowd when she was little. Although fearful and nervous at first, after the performance she crushed her fears. She loved it so much, that Jessica Cox anxiously awaited for the next time when she would perform again.
After 11 years of wearing them every day, however never really feeling comfortable with them, Jessica Cox swore to herself to never put them on. Simply put, she felt more connected with her feet rather than her prosthetic arms. Jessica Cox graduated from University of Arizona in 2005 with flying colors.
She is worlds's first licensed armless pilot, she can drive a car, fly a plane and play piano – all with her feet. She even holds a Guinness world record for it.
In 2012 she married Patrick, her former Taekwondo instructor (she has two black belts). They live in Tucson in the US state of Arizona.
ALSO READ: Iran kept its words; Killed 80 American terrorists in missile attack!!
Keep yourself updated with latest news through Newstrack App. To download App from Google Playstore visit here - Newstrack App