The 'Ek Kudi' poet who lost his battle of 'Love and Life'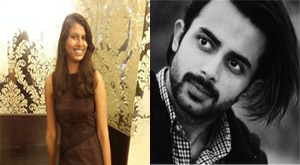 Arnima and Zoheb
Lucknow: If you are a music enthusiast then the recent song 'EK KUDI' from the latest controversial movie 'Udta Punjab' must be on your music list nowadays, but not many of you may have known that the song was not composed for the movie but was taken from the collection of poems written by the famous Punjabi poet, Shiv Kumar Batalvi.
A person famous for his love poetries, Batalvi, had many unwanted experiences during his love life and his heartache resembled in his works and the famous song from Udta Punjab is the culmination of his pain, anguish and despair.
The poet met a girl named Maina at a fair in Baijnath town in Himachal Pradesh and was attracted to her. Later, when he went to her hometown looking for her, he heard the news of her demise. Batalvi acknowledged his love for the lady by writing his elegy 'Maina'.
The youngest Sahitya Akademi award winner, Batalvi, had a habit of writing poetry on each heartbreaking moment of his life. This was perhaps his way to lessen the pain he had gone thorough. There were numerous partings in his life that had brought purity of emotions in his poems.
Of the many heartbreaks that he survived, the Punjabi poet had celebrated his breakup with Anusuiya, daughter of Punjabi novelist Gurubaksh Singh. Anusuiya had left him and went to United States and married someone else and when he heard of the birth of her first child, Shiv wrote a poem 'Mai ek Shikra Yar Banaya', which was his most famous love poem.
Shiv Kumar Batalvi, though, survived every bad phase of his life but his habit of drinking led him to lose his battle of life, in 1973, at the mere of 36. While Punjabi community got their opportunity to listen to Shiv on various occasions, his stay in London proved to be the last straw for his failing health.
He would stay late and continue to drink till morning at parties or at home engaged in discussions with his hosts and other people who would come to visit him. The Final Days When Shiv returned from England in September 1972, his health had declined visibly.
His wife, Aruna, somehow managed to get him admitted in a hospital in Chandigarh where he received treatment for a few days.
A couple of months later, he was admitted in a hospital in Amritsar, but left it on his own against the advice of his doctors as he did not want to die in a hospital and simply walked out and went to his family home in Batala.
He was later shifted to the village of his in-laws, Kiri Mangial, a small village near the border with Pakistan where he died during the early morning hours of May 6, 1973.
So the next time you listen to the song Ek Kudi, you know that there is not one but many girls who were the inspiration to the poet, to pen it down.