Rahul Gandhi connects to UPiites, physically and virtually  
Lucknow: The Congress Vice President Rahul Gandhi was in the city of Nawabs to hold 'Political Walk the Talk' with the party workers of Uttar Pradesh. While there were speculations of his programme being cancelled due to bad weather conditions, RaGa, to the much enthusiasm of his workers, came to the city braving the rain.
There were as many as 80,000 workers in audience to boost their leader who had come all the way to answer their queries and it was the excitement of workers that they made chair as their umbrella when it started raining.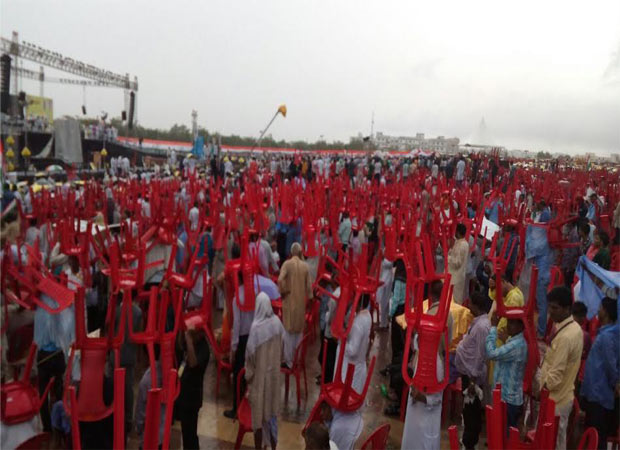 Rupesh Chaudary, Chandan Ojha, Ranu Pathak and Kulwardhan Ojha who had come to attend the interactive session all the way from Ballia told newztrack.com that 'they have come to get the glimpse of their leader and to boost themselves for the coming Assembly elections in Uttar Pradesh'.
One Vikas Pandey said,"Ruki Nahi Sheila, Ruka Nahi Vikas, Ab hoga Uttar Pradesh Mein Prayas."
The Congress Vice President was also virtually connected, through social media, to those who could not present themselves physically at the venue.
Take a look at the tweets:
राहुल जी कर रहे हैं लखनऊ में 80 हज़ार कार्यकर्ताओं को संबोधित | #UP_चले_RG_के_साथ@INCIndia@OfficeOfRGpic.twitter.com/qLZwNXmdrC

— UP Congress (@UPCC_Official) 29 July 2016
Under Sheila ji, genuine work & development happened in Delhi, now there is only Drama#UP_चले_RG_के_साथ pic.twitter.com/eERzSXnkbI

— INC India (@INCIndia) 29 July 2016
बीजेपी और सपा एक हिन्दुस्तानी को दूसरे से लड़ाने का काम करती है कांग्रेस लोगों को आपस में जोड़ने का काम करती है -RG (1/3) #UP_चले_RG_के_साथ

— UP Congress (@UPCC_Official) 29 July 2016
"..हम ऐसा प्रदेश चाहते हैं जहाँ किसी को ये कभी ना लगे की उसको इस प्रदेश में जगह नहीं मिलीं.." - RG (2/3) #UP_चले_RG_के_साथ

— UP Congress (@UPCC_Official) 29 July 2016
"हर एक इंसान को ये लगना चाहिए चाहे वो किसी भी जाति धर्म समुदाय का हो, कि ये प्रदेश हमारा है..ये सारा देश हमारा है -RG(3/3) #UP_चले_RG_के_साथ

— UP Congress (@UPCC_Official) 29 July 2016
कांग्रेस पार्टी एक हिंदुस्तानी को दूसरे हिंदुस्तानी से लड़ाने का काम नहीं करती,कांग्रेस पार्टी जोड़ने का काम करती है pic.twitter.com/WREjG8d6kf

— Office of RG (@OfficeOfRG) 29 July 2016
हम ऐसा हिंदुस्तान नहीं चाहते जहाँ किसी को भी लगे की मुझे मेरे ही देश में जगह नहीं मिली

— Office of RG (@OfficeOfRG) 29 July 2016
हर एक इंसान को लगना चाहिए,चाहे वो किसी भी जाति का हो, किसी भी धर्म का हो,महिला हो या पुरुष हो-कि उत्तरप्रदेश हमारा है, ये सारा देश हमारा है

— Office of RG (@OfficeOfRG) 29 July 2016
#UP_चले_RG_के_साथ @INCIndia @OfficeOfRG pic.twitter.com/knvhbGrsaF

— UP Congress (@UPCC_Official) 29 July 2016
Some snapshots from the workers' meeting pic.twitter.com/UNJvegn77t

— Office of RG (@OfficeOfRG) 29 July 2016
#UP_चले_RG_के_साथ @INCIndia @OfficeOfRG pic.twitter.com/e7kgFQOy0r

— UP Congress (@UPCC_Official) 29 July 2016