Quit India Movement: Facts, history & Heroes of Independence
Quit India Movement Day' is celebrated on 9th August. It is also called 'August Kranti'.
New Delhi: India got independence on 15 August 1947. Today 74 years of independence have been completed. 'Quit India Movement Day' is celebrated on 9th August. It is also called 'August Kranti'. Come let's know the special things of this movement.
Quit India Movement:
It is said that after the failure of the Cripps Mission, Mahatma Gandhi had decided to launch his third major movement against the British rule, due to which a resolution was presented in the Mumbai session on 8 August 1942 and the movement started on 9 August 1942.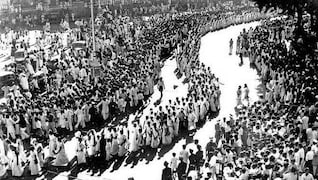 History of the day:

Usually 9th August is considered to be the beginning of Quit India Movement, but this movement started from 8th August 1942. In fact, on August 8, 1942, at the Gowalia Tank Maidan in Bombay, the All India Congress General Committee had passed the resolution, which was called the 'Quit India' resolution. Since then this movement has started on a large scale.
It was a civil disobedience movement against the British for the immediate independence of India from British rule. On this occasion, Mahatma Gandhi gave the slogan 'Do or Die' to the country from the historic Gwalia Tank Maidan (now August Kranti Maidan).
Mahatma Gandhi: The host
Mahatma Gandhi had asked to maintain discipline in the movement, but as soon as this movement started, before the day ended on 9 August 1942, all the members of the Congress Working Committee were arrested and the Congress was declared an illegal organization. Was. Not only this, the British put Gandhi under house arrest in Ahmednagar Fort.
The news of Mahatma Gandhi being placed under house arrest led to strikes and sabotage actions across the country. It is said that in this movement about 940 people were killed and 1630 were injured while 60229 people gave arrest.
The way to independence:

During the movement, independent government, Prati Sarkar was established in many districts like Satara in the west and Medinipur in the east.
In 1943, on February 10, Mahatma Gandhi started a 21-day fast. On the 13th day of fasting, Gandhiji's condition started deteriorating very badly. Gandhi called off the movement as the British signaled the independence of the country, and the British released about 100,000 political prisoners, including Congress leaders.
Quit India Movement was the fastest and largest movement in India in which all the people participated. Due to this, the British were forced to leave India, but between 1942 and 1947, they had created a divide between Hindus and Muslims, due to which the partition of India also took place.
Stay tuned with the newstrack to get fastest updates. Click @englishnewstrack to follow us on Facebook and @newstrackmedia to follow on Twitter.