Live those moments | Places to lookout for a Pre-wedding photo-shoot
But as it is said, that the young minds are the most creative ones when it comes to solving problems. The new generation has invented a creatively innovative idea of a pre-wedding photo shoot. Now, you can just be in the arms of your would-be and enjoy every moment of it while caputring them too
Lucknow: Marriages are no less than a fairy tale coming true. A rosy path, full of lights, aroma, music and cheerful faces, welcoming a bride and groom, is a dream of almost every one who dreams to tie knot with that someone special who promises to stand beside at every step of yours.
The D-day, however, concludes as the most hectic day of your life without you being able to fully enjoy the most memorable moments.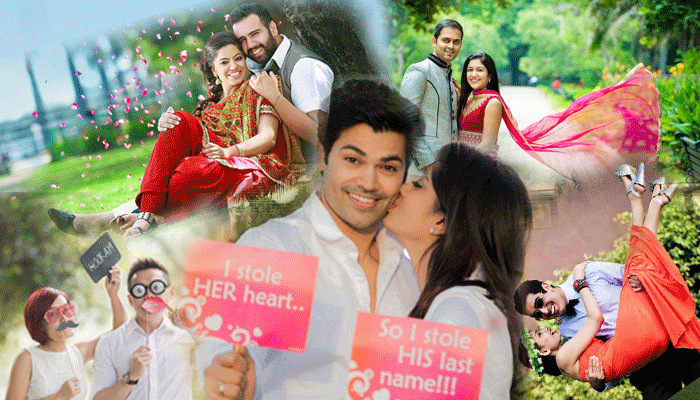 But as it is said, the young minds are the most creative ones when it comes to solving problems. The new generation has invented a creatively innovative idea of a pre-wedding photo shoot.
Now, you can just be in the arms of your would-be and enjoy every moment of it while caputring them too.
We bring you some of the destinations that will make your memories of marriage more beautiful.
So just dive and get lost into the the dreams of a happy journey of life, while you hold his hands at those never forgotten destinations.
Get clicked...!!!
In next slide:

Check out some places preferred for the pre-wedding photo-shoots...
Agrasen ki Baoli:
This place is a 60-meter long and 15-meter wide historical step well situated on the Hailey Road near Connaught Place.The place is not very crowded, which makes it easy to get photo shoot permissions

Udaipur Udaivilas:
This hotel is the most sought out destination for pre-wedding photography. You can see the royalty in each and every piece of the wall over there

Park Hyatt Resort and Spa:
Overall Goa is known as a romantic destination, but little do people know that it is equally a great photo shoot destination too.

Sahara Aamby Valley:
Aamby valley is situated very close to Pune and Mumbai. This place is a man-made city. You get all the things under one roof over here like the man-made water bodies, beach of Goa.

Jadhavgadh Fort:
Situated in the state of Maharashtra, Jadhavgadh fort is quite a hit among many couples. The whole place over all gives a rustic feel.

National Rail Museum:
Situated at Chanakyapuri, many unconventional couples are surely choosing the National rail museum as their pre wedding photo shoot venue.

Falaknuma Palace:
The first thing that will come in mind of those, who are planning to get married in Hyderabad, is the Falaknuma palace. If you are not getting wedded over here, at least capture some amazing pictures as a part of your pre wedding photoshoot over here.

Rambagh Palace:
Night Photoshoots at Ramgarh palace in Jaipur gives a mysterious romantic blanket in your pictures while the day Photoshoots will lighten up the mood quickly. '

Lavasa:
Lavasa will be ideal for those couples who are looking out to get some scenic and urban touch in their photos.

Lodi gardens:
The early morning photoshoot is the best time for you to click your couple photos the nature itself will help you to get some mesmerizing pictures.

French colonies, Pondicherry:
Pondicherry's French colonies are the best place to have any photo shoots. Capture the beauty of your chemistry in these colourful streets that have an amazing architecture.