Miracle or Science? 5 year old gives birth to a healthy baby!
Lucknow: Being a mother has never been an easy job. Only if Mother's would be paid for doing this work, every mother in the world would have been a millionaire by now, am i right or am i right? What's the right age according to you for becoming a mother? 20's or 30's? Well, this girl has brought a change in the perfect age of being a mother.
ALSO READ: Kartik wishes to work with Deepika, actress replies with a filmy dialogue!
Lina Medina aged 87, gave birth to a healthy baby boy named Gerardo. Medina's son weighed 2.7 kg at birth. He was raised believing that Medina was his sister, but he found out at age 10 that she was his mother.
It was although speculated that the case was a hoax,  a number of doctors over the years have verified it based on biopsies, X rays of the fetal skeleton in utero, and photographs taken by the doctors caring for her.
The first photograph was taken around the beginning of April 1939, when Medina was seven-and-a-half months into pregnancy. Taken from Medina's left side, it shows her standing naked in front of a neutral backdrop. This is the only published photograph of Lina taken during her pregnancy.
Lina's parents at first thought that there daughter had abdominal tumor due to her increasing belly size. Not only her parents but even the doctors thought the same. Later they determined that she was in her seventh month of pregnancy. Dr Gerardo Lozada took her to Lima to have other specialists confirm that she was pregnant.
ALSO READ: Delhi CEO office's voters helpline to have dedicated facility for disabled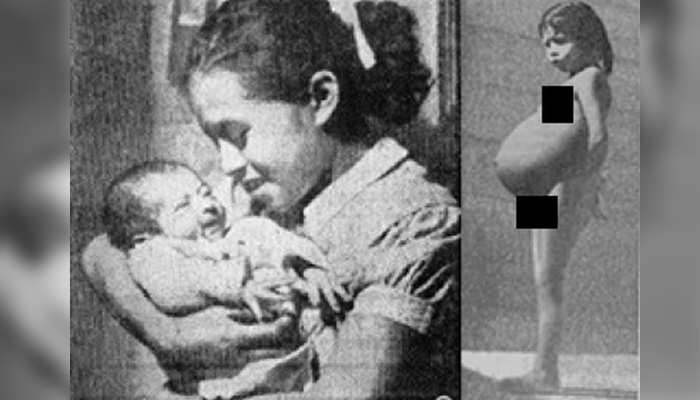 A month and a half after the original diagnosis, Medina gave birth to a boy by caesarean section. She was 5 years, 7 months, and 21 days old then. Lina's father was arrested on suspicion of child sexual abuse, but he was released due to lack of evidence, and the biological father was never identified.
After all she was a mother and had to feed her child and educate him. Doctors realized that she already had fully mature sexual organs from precocious puberty. Her menarche had occurred at eight months of age, in contrast to a past report stating that she had been having regular periods since she was three years old. In young adulthood, Medina worked as a secretary in the Lima clinic of Lozada, which gave her an education and helped put her son through high school.
She later married Raúl Jurado, who fathered her second son in 1972. Her son grew up healthy. He died in 1979 at the age of 40 from bone disease.
ALSO READ: Maharashtra: Hindutva ideologue Savarkar's grandson hospitalised
Keep yourself updated with latest news through Newstrack App. To download App from Google Playstore visit here - Newstrack App