Rajnath, Yogi jointly flag off Lucknow Metro | Watch VIDEO
Lucknow: Home Minister Rajnath Singh and Uttar Pradesh Chief Minister Yogi Adityanath on Tuesday inaugurated the first service of Lucknow Metro on Tuesday at the Transport Nagar railway station.
The 8.5 km stretch of the rapid transport system Lucknow Metro -- starting from Transport Nagar to Charbagh railway station -- will be open for public from Wednesday.
Chief Minister Adityanath, in his address on the occasion, lauded the team behind the early completion of the project and said the metro would ease traffic congestion in the state capital.
He assured that the work on other phases of the Lucknow Metro project would be completed at the earliest.
Adityanath also thanked Prime Minister Narendra Modi for facilitating a loan from the European Investment Bank for the project.
Congratulating Lucknowites, Yogi Adityanath said that he is grateful to the UP Governor Ram Naik who inspires him to work tirelessly.
He said that the Detailed Project Reports (DPRs) for similar projects in many other cities have been submitted to the Union government, adding that metro rail services will be soon available to the residents of Kanpur, Varanasi and Jhansi besides other places.
"It is just the start. I wish to flag off metro in other cities including Varanasi, Gorakhpur, Kanpur also," said UP CM Yogi Adityanath in the inauguration ceremony of Lucknow Metro.
He said that UP government is working in the lines of Prime Minister Narendra Modi to fulfil his every dream for the betterment and development of country.
The Chief Minister did not miss the chance to take a dig at his predecessor Akhilesh Yadav, who started the project and has been taunting the Bhartiya Janata Party government for the last few days over the inauguration.
He said earlier some people rushed through the projects' inauguration but on Tuesday as he spoke, the event looked "bhara-bhara" (complete and full) as there was maximum participation.
On Monday, some workers of the Samajwadi Party (SP) had organised a mock inauguration of the Lucknow Metro and distributed sweets, crediting Akhilesh Yadav for the "gift to Lucknow".
Yadav was invited but he chose not to turn up at the event and instead took to Twitter to express his views on the project which he conceived but was delivered by the BJP government.
Lucknow Metro project has been divided into two corridors -- North-South and East-West.
The first phase of the project is set to cost the exchequer Rs 6,928 crore and the second corridor Rs 5,494 crore.
LMRC Engineer Avinash Singh and his team has been given the responsibility of making public aware with precautionary steps of using metro. They will remain present at every metro station.
Watch Video:
https://youtu.be/YpSByy1kGT0
Instead of setting Metro Corporation for particular cities, Yogi Adityanath assured of setting Uttar Pradesh Metro Corporation. "I would like to give the responsibility of UP Metro Corporation to Sreedharan as chief advisor and MD Keshav Kumar as advisor." he said.
Metro Man E. Sreedharan, MP Kaushal Kishore, Cabinet Minister Rita Bahuguna Joshi, Hardeep Singh Puri, Swati Singh, Basic Education Minister Anupama Jaiswal and Suresh Rana marked their presence in the inaugural ceremony.
Uttar Pradesh Governor Ram Naik, senior Ministers of the state cabinet, local legislators and Union Minister of State for Housing and Urban Development Hardeep Puri were present on the occasion along with Principal Advisor to the project E. Sreedharan.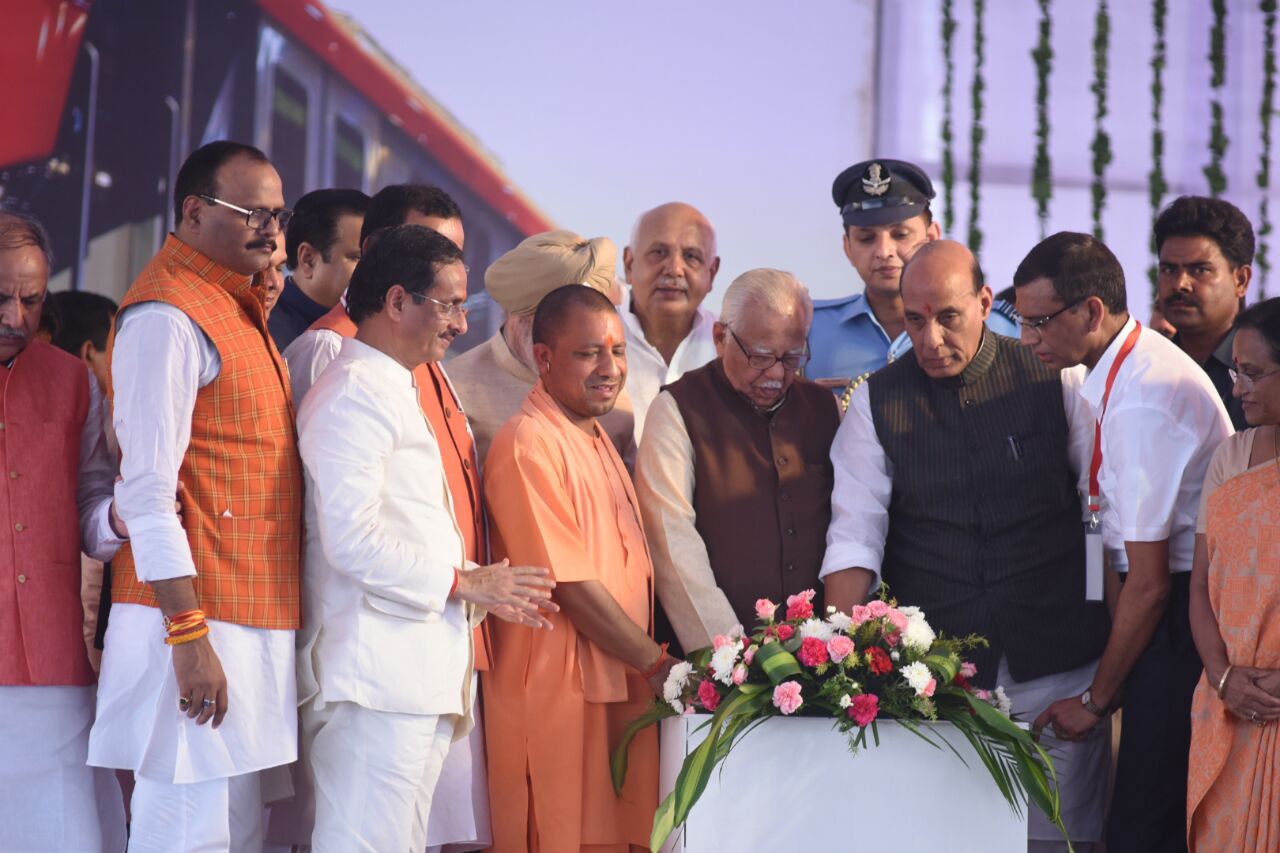 Rajnath said this is a day to remember for the Lucknow and Uttar Pradesh people.
"Today is a historic day not only for Lucknow but for the entire Uttar Pradesh," said Rajnath. Calling Lucknow 'Metro Ka Shehar', he said it will bring new opportunities for the city.
"Whenever we think of infrastructure we look towards future. Infrastructure should cater to the need of the next 10-15 years," he added.
"Lucknow will now be known not only as Nawabon Ka Shahar but also as Metro Ka Shahr. Lko Metro will unlock new opportunities for the city," said Rajnath, who also represents Lucknow Lok Sabha seat.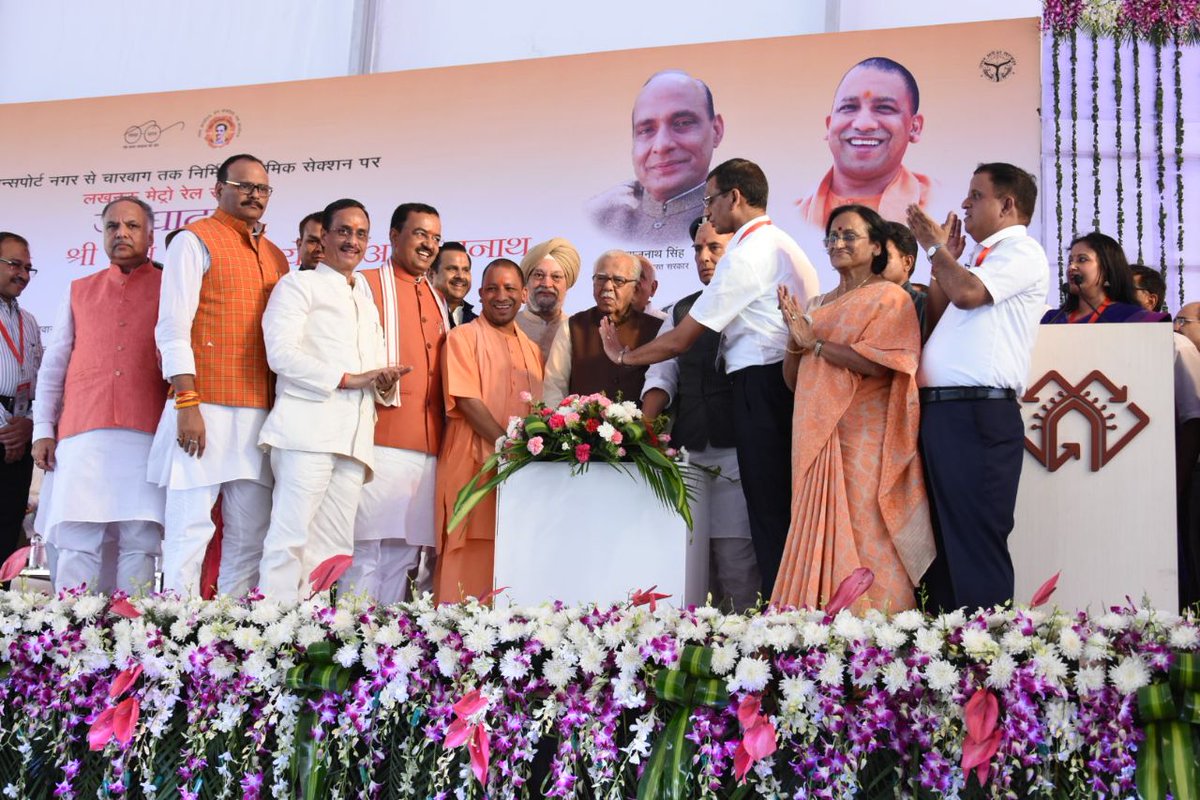 Rajnath also listed the upcoming infrastructure projects for Lucknow city, mentioning 7 flyovers and four new rail tracks.
What else Rajnath said?
I dedicate this Lucknow Metro to our former Prime Minister Shri Atal Bihari Vajpayee who had envisioned the importance of infra projects.

The transportation infrastructure should provide last mile connectivity in this city. I'm working towards this goal.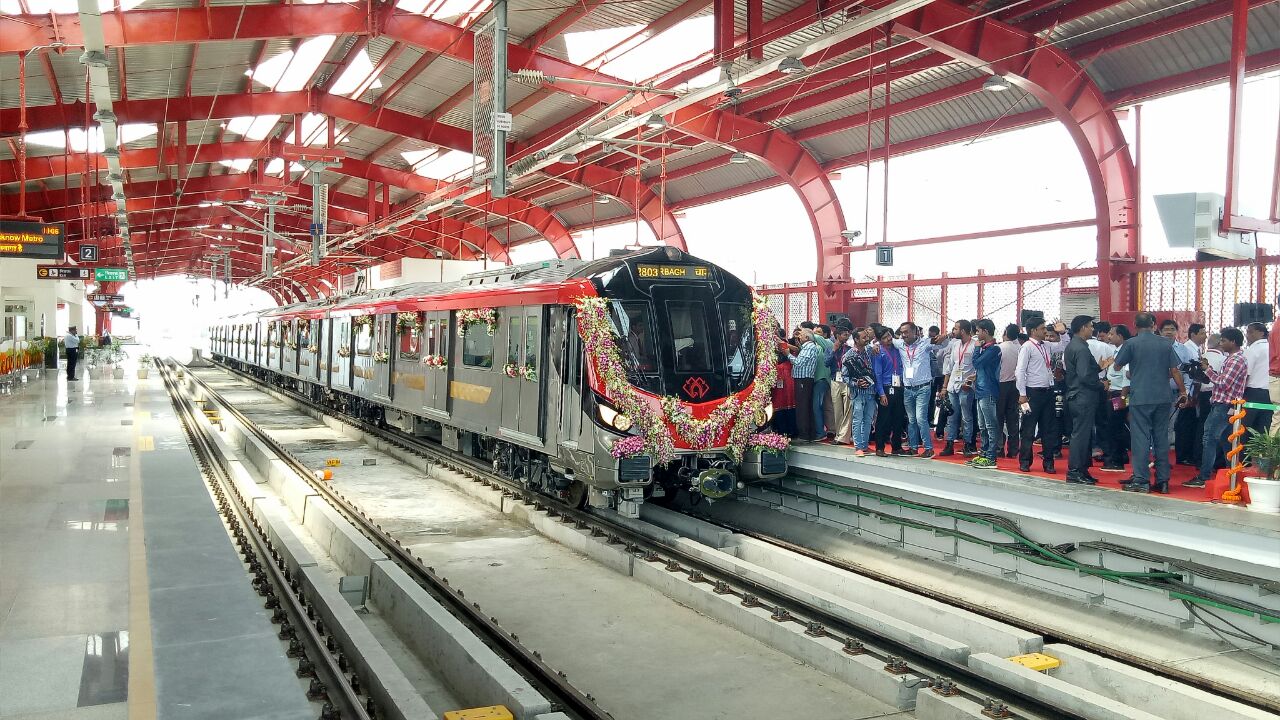 Welcoming Governor Ram Naik, Yogi Adityanath, Rajnath Singh, Deputy CM's and other ministers, Lucknow Metro Rail Corporation (LMRC) MD Kumar Keshav said that it makes me feel proud that the Lucknow Metro has been flagged off.
"It was a tough project. We have worked very hard to make this come true. I dedicate the success to my teacher Sridharan," he said.
Terming the day as historic, Ram Naik said that inauguration of metro on the pious day of Ganesh Chaturthi adds more good luck to it.
Key Highlights about First Phase Lucknow Metro
In the first phase, five trains will run between Transport Nagar and Charbagh stations. The service will be thrown open for the public from September 6.

Officials of the Lucknow Metro Rail Corporation (LMRC) said the trains will run from 6 a.m. to 10 p.m. every day. The safety audit has already been completed.

The LMRC has also launched its official website http://www.lmrcl.com, where the people can log in and find details about the time table and other details about the fares among other things, an official said.

The base fare has been fixed at Rs 10.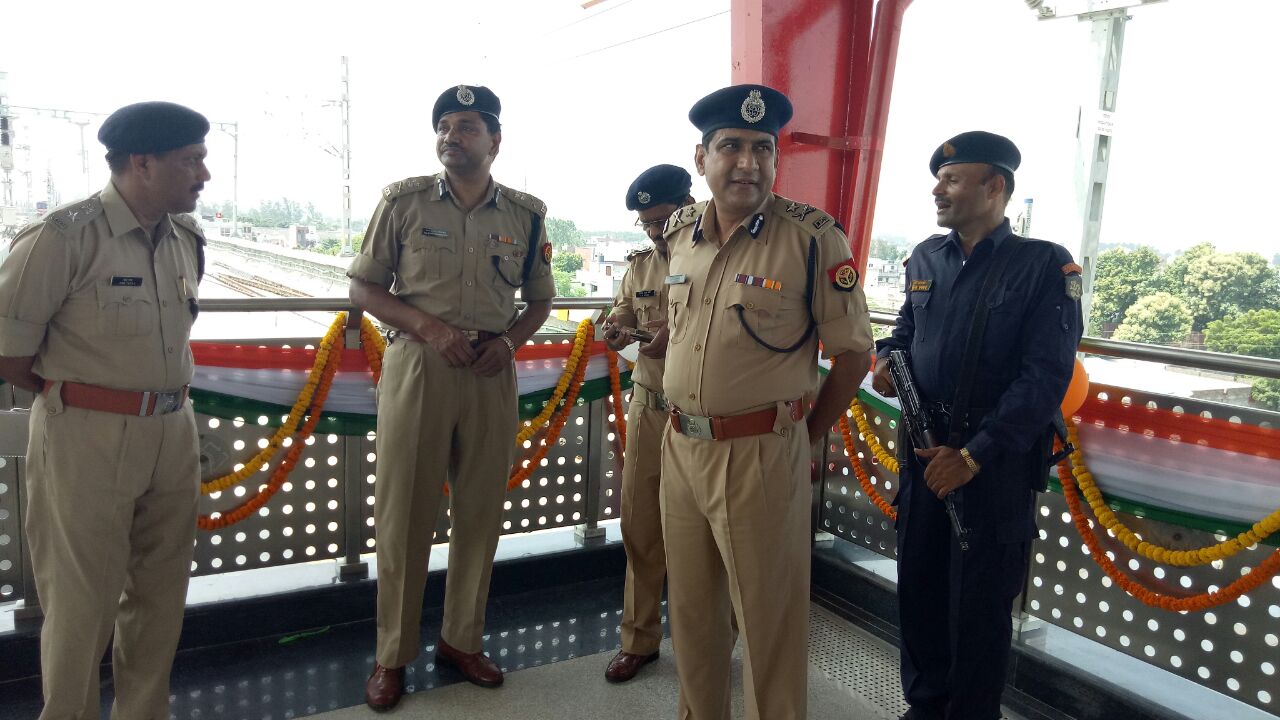 There would be a 10 per cent discount on fares for those using smart cards.

A commuter can take back the security money of Rs 100 on returning the Go Smart card to the metro counters.

The Lucknow Metro will also issue "Tourist Cards" to cater exclusively to the tourists and they would be priced at Rs 200 for a day and Rs 350 for three days.

Children up to three feet height will be able to travel free in the metro trains.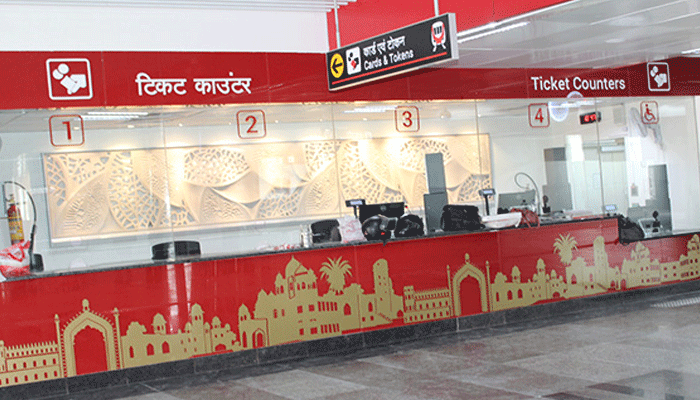 Preparations for the Inauguration Ceremony
All eight Lucknow Metro stations are illuminated with special lights.

Stations have been decorated with special buntings and flags of velvet.

The Metro coaches have been decorated with flowers and ribbons in a special colour scheme.

A total of 321 security personnel, including 170 UP Policemen, will keep a strict vigil during the Lucknow Metro inauguration day.

151 private guards of G4S Secure Solution Pvt Ltd have been deployed for the safety of commuters.

54 CCTV cameras have been installed at each Metro Station for digital surveillance.

CCTV images inside trains to be displayed to Train Driver as well as at centralised Security Control Room.

Nine bag scanners, 19 DFMD and 38 HH MD scanners have been installed.
Lucknow Metro Fare Chart: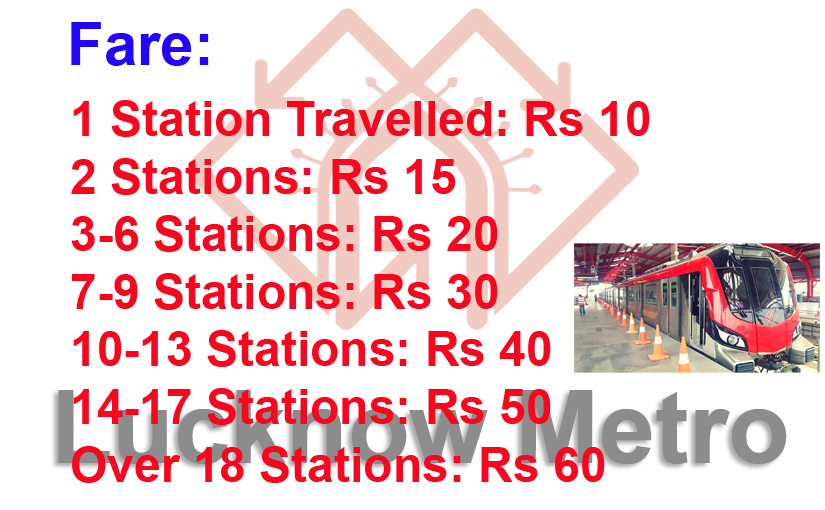 Lucknow Metro – The Pride of India
The first phase of metro has been completed in a record 14 months, the fastest in India and the world till now.

The Lucknow Metro system, when completed, will be the fastest and most economical high speed rapid transit system project in India.
Salient Features of Lucknow Metro Train:
The trains have design speed of 90 kmph & schedule speed of 32 to 35km per hour with dwell time/stoppage of 30 seconds per station and design headway of 100 second.

Train exterior is a tribute to the cultural richness of the city of Lucknow.

Exterior livery in golden color is inspired by the Chikankari craftsmanship.

The front shape of train shows the spirit of the fabulous Roomi Gate, Bara-Imambara & Asifi Masjid.

Blending of black color in front of car is inspired from modern feel of Hazaratganj.

Design Criteria of Trains.

Train cars for LMRC are energy efficient, reliable and better comfort to passengers in terms of riding quality, lower-noise level and environment friendly.

Body shell of cars made of stainless steel are lightweight.

Highly energy efficient Trains with LED lighting and regenerative braking to feed the energy back to overhead electrical energy system during braking.

All systems monitored & selectively controlled by a microprocessor based Train Control & Management System.

The station name display inside trains is also in Urdu language in addition to Hindi & English.
Pictorial Representation of the Route Map of First Phase Lucknow Metro: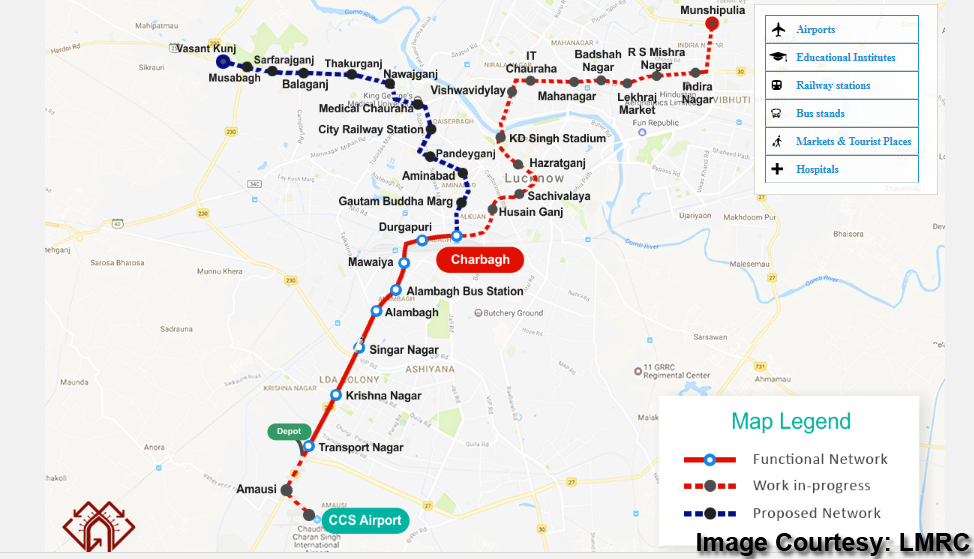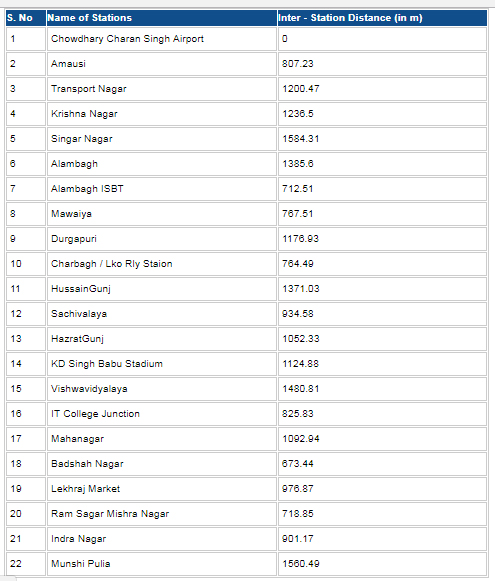 Accidents During the Construction of First Phase Lucknow Metro
JULY 13, 2017: A 17-year old boy lost his life and one other sustained serious injuries when an iron rod fell at the metro construction site near Lucknow University.

APRIL 17, 2016: Three labourers were critically injured when shuttering of the under-construction Lucknow Metro project collapsed in Alambagh locality.

DECEMBER 21, 2016: A man named Virendra Kumar Singh was hit by a coupler (connector of two pipes), weighing around 100-200 gms, on his shoulder while he was passing near the Charbagh roadways bus station.
Offences and Penalties: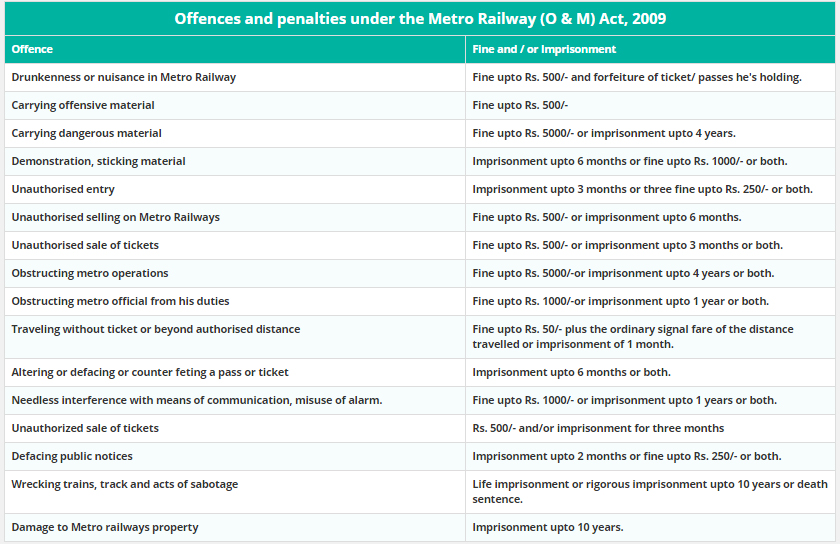 Find More on Lucknow Metro:
PHOTOS: Here is the first look of Lucknow Metro train !!!
Proud Start: Two women to pilot the Lucknow Metro trial run
PHOTOS: Lucknow welcomes its first batch of Metro rail coaches
Timeline of the Lucknow Metro Rail Project
September 2008: DMRC submits a concept paper after the Lucknow metro rail project is proposed by the Government of Uttar Pradesh.
October 2008: The metro rail project in the Uttar Pradesh capital city is cleared by Lucknow Development Authority (LDA).
February 2009: An agreement is signed between DMRC and LDA.
June 2009: A Bangalore-based company hired by DMRC studies traffic pattern of Lucknow.
July 2009: Geo-technical survey initiated by DMRC.
April 2010: Traffic and transportation report is submitted by DMRC.
May 2010: DMRC and a committee headed by the Chief Secretary of Government of UP start consultation process related to traffic issues.
June 2010: DMRC submits the route alignment plan. The divisional commissioner of Lucknow is asked to coordinate with the concerned departments.
August 2010: DMRC presents the detailed route plan.
September 2010: The committee headed by the divisional commissioner consults DMRC on the route once again.
July 2011: A Detailed Project Report (DPR) is submitted.
June 2013: The state cabinet headed by chief minister Akhilesh Yadav gave clearance to the metro rail network.
August 2013: UP government approved the revised Detailed Project Report (DPR) submitted by DMRC.
October 2013: Name of Lucknow Metro Rail Corporation approved. Construction Phase to begin in December.
November 2013: DMRC pitches for Lucknow Metro work, assures first phase completion by Feb 2017.
December 2013: Government of India, in principle, approves the project.
February 2014: Metro man E. Sreedharan appointed as chief adviser of Lucknow metro.
March 2014: Foundation stone laid for Lucknow Metro project.
10 July 2014: 100 crores rupees were set aside for Lucknow Metro in the Union Budget, by Finance Minister of India Arun Jaitley.
27 September 2014: Construction begins on the Lucknow Metro.
6 August 2015: Lucknow Metro got clearance from PIB.
22 December 2015: Union Cabinet has approved the construction of Rail Project Phase 1A.
18 September 2016: 90% of the work completed in the construction of Rail Project Phase 1A.
20 October 2016: Lucknow metro begins work on Faizabad Road, does Bhoomi puja for Phase 1B.
1 December 2016: The then Uttar Pradesh Chief Minister Akhilesh Yadav and Samajwadi Party chief Mulayam Singh flagged off the train at the Transport Nagar depot on a trial run on priority section till the Alambagh Station. The inaugural ride was piloted by two women.
20 June 2017: Fifth metro train set arrives at Transport Nagar depot.
23 June 2017: 8.5 km of Lucknow metro to start functioning by September first week, said E. Sreedharan. As per E. Sreedharan, Kochi metro was built in four years whereas Lucknow Metro will be completed in a period of two years and nine months, and that would be the fastest in India and the world till now.
08 July 2017: Sixth and final metro train set arrives for first phase requirement.
September 5, 2017: Union Home Minister Rajnath Singh and Uttar Pradesh Chief Minister Yogi Adityanath flag off the Lucknow Metro's inaugural run.