Hundreds of women march topless for gender equality in US
Washington: A large number of women, and some men, marched on Sunday through numerous cities in the US to show their breasts, demanding gender equality and to protest against the "commercialization and the double standards" which affects their lives and jobs.
In its eleventh edition, the mobilization known as 'International Go Topless Day' held 20 marches across the US.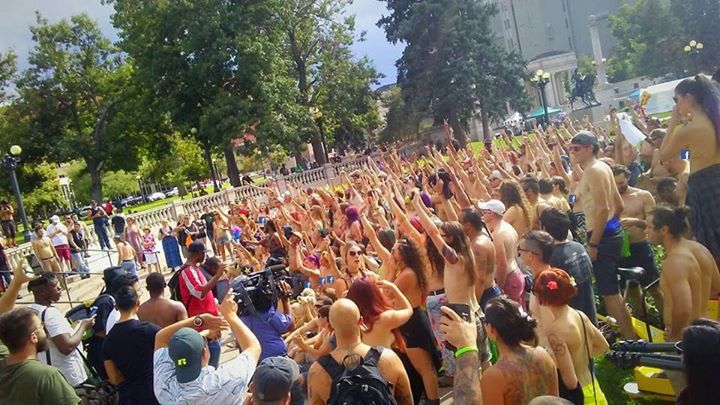 In New York, the first state in the US to pass a law allowing breastfeeding in public, and in other cities women were also joined by a group of topless men.
ALSO READ: Four killed in Florida mall shooting
"This is a way to show that men and women can go topless in the streets and still set respectful and healthy boundaries," one participant in the Denver march said.
She also added that "This is a way to promote gender equality and a reminder that nudity and sex are not the same," and that "to appreciate the female body does not mean to stop respecting women, because #NoMeansNo."
Some of the demonstrators carried posters with phrases like "Free the nipple", "Your body is not a mistake" or "Let's make the body normal again".
The marches, held annually on the Sunday before Women's Equality Day, which was established by the US Congress in 1971 in memory of August 26, 1920, when American women established the right to vote.
ALSO READ: This actress kisses her beau passionately on stage | Check images
Topless is not prohibited in Denver and, although rarely practiced, is not considered "indecent exposure" by law.
In New York, women going topless was legalized in 1992, but in other cities such as Phoenix, Arizona, Corpus Christi, Texas or Madison, Wisconsin, it is not.
Because some of these local laws which prohibit going topless are not consistent with state legislation, there are a number of unresolved court cases regarding their constitutionality.
Only three states prohibit women to go topless: Indiana, Tennessee and Utah. And in another 14 states, including Arizona, Florida and Nevada, the laws are "ambiguous," meaning that while they don't prohibit going topless for women, they include it among the acts that are "disturbing the peace," which can lead to an arrest.
IANS