Former PM Atal Bihari Vajpayee dead: Live Updates
New Delhi: Former Prime Minister and senior most Bharatiya Janata Party (BJP) leader Atal Bihari Vajpayee passed away at AIIMS here on Thursday evening.
The death of one of the most revered politicians ever is being widely regarded as the end of an era in Indian politics.
Also Read: Former Prime Minister Atal Bihari Vajpayee passes away
Politicians from all parties have started to condole the death of a pillar of Indian politics and the Centre has announced a seven-day 'National Mourning' throughout the country. During the period the national flag will be flown at half mast throughout India where its regularly flown.
The government has also announced to accord State funeral to the first non-Congress leader to serve a full term in PM's Office.
Uttar Pradesh Chief Minister Yogi Adityanath and Delhi CM Arvind Kejriwal have announced a public holiday tomorrow (Friday) to mourn the death of the legendary leader. All the government offices, schools and colleges will also remained close.
Also Read: 'Baapji' Atal Bihari Vajpayee: An institute of politics & a man of great erudition!
Bihar government also joined UP and Delhi in announcing a public holiday on Friday. The government has also declared a seven-day state mourning.
Live Updates:
All Offices/Boards/Corporation and Educational Institutions in Punjab will remain closed tomorrow as a mark of respect

Madhya Pradesh government declares a public holiday on Friday and seven-day state mourning in his memory.

The body of Atal Ji has been released from AIIMS and is now being taken to his residence at 6-A Krishna Menon Road.

The Punjab government has also declared three-day mourning in memory of the legendary leader.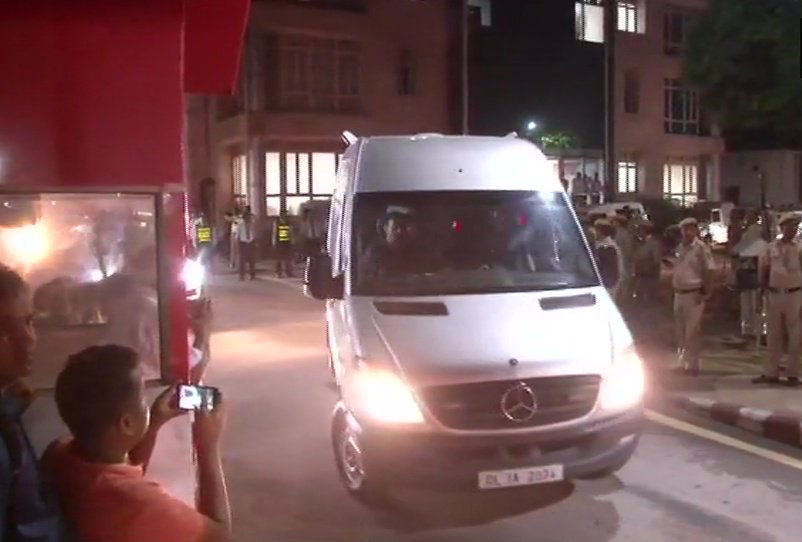 Jharkhand government has declared seven-day mourning in memory of Atal Bihari Vajpayee. The state govt has also declared a state holiday tomorrow.

His 'last journey' will begin tomorrow morning and will cover BJP headquarters and his residence before finally reaching Smriti Sthal.

The mortal remains of former PM Atal Ji have been brought to his residence.

The funeral will be held at Smriti Sthal.

Half day holiday in the afternoon of day of funeral has been announced in all Central government offices and PSUs across the country as well as Delhi government offices.

West Bengal CM Mamata Banerjee arrives at Atal Ji's residence, where his mortal remains are kept.

At 9 am tomorrow his mortal remains will be taken to BJP headquarters and at 1 pm his last journey will begin. Funeral will be held at 4 pm at Smriti Sthal, confirmed BJP President Amit Shah.

Odisha government has declared government holiday tomorrow in the state. All government offices, schools and colleges will remain shut across the state.

Tamil Nadu government declares public holiday tomorrow. Schools, colleges and government offices will remain closed tomorrow as a mark of respect for former PM.

Mortal remains of Atal Bihari Vajpayee has been wrapped in the tri-colour.

"India has lost its 'anmol ratna'. We are at a loss of words. His demise has marked the end of an era. In Atal ji's passing away, it is as if I have lost my father. It's a void which can never be filled," said PM Narendra Modi.

Home Minister Rajnath Singh and EAM Sushma Swaraj pay tribute to former Prime Minister.

We have learnt with sadness the passing away of Atal Bihari Vajpayee, former Prime Minister of India, who was undergoing treatment in a hospital in New Delhi. He was a renowned statesman who contributed to bringing a change in Indo-Pak relations and remained key supporter of SAARC and regional cooperation for development. Pakistan government and people extend their heartfelt condolences to his family and to government and people of India, said Pakistan government.

Here is the route of the 'last journey' of former PM Atal Bihari Vajpayee scheduled to start from BJP headquarters: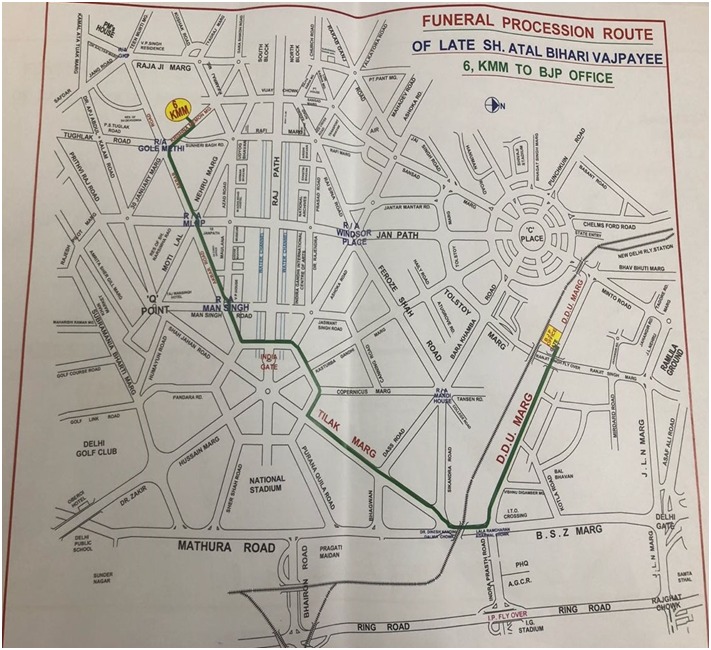 Bangladesh PM Sheikh Hasina has also condoled the death of Atal ji and has described him as a friend of Bangladesh. "Deeply shocked at sad demise of former PM of India, Atal Bihari Vajpayee, one of the most famous sons of India. He'll be remembered for contributing towards good governance & highlighting issues affecting common people of India as well as regional peace and prosperity. He was our friend and highly respected in Bangladesh. As a token of recognition for his invaluable contribution to our Liberation War in 1971, Bangladesh government conferred on him Bangladesh Liberation War Honour. Today is a day of great sadness for all of us in Bangladesh. On behalf of government and people of Bangladesh and on my own behalf, I express our heartfelt sympathy and condolences to government and the mourning people of India, and to the members of the bereaved family. We pray for the eternal peace of his soul," she said.

Senior BJP leaders LK Advani and Murali Manohar Joshi pay tribute to Atal Bihari Vajpayee.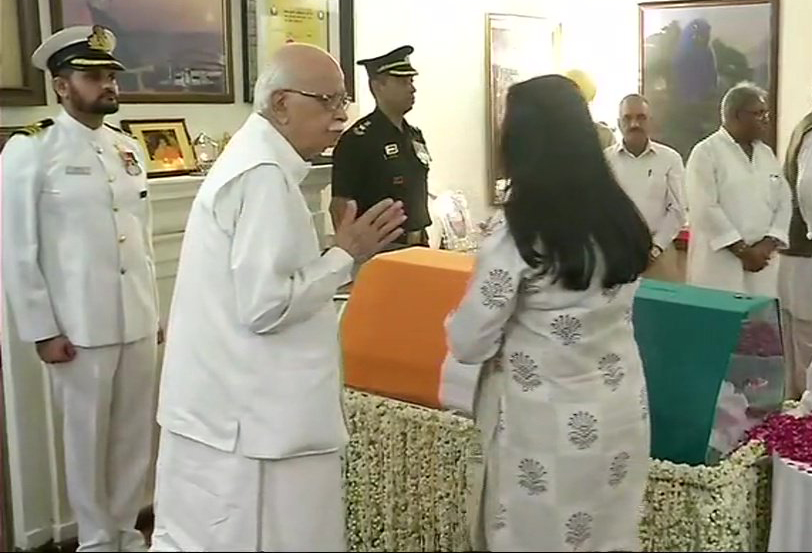 Former Prime Minister Manmohan Singh pays tribute to Atal Ji.

President Ram Nath Kovind pays tribute to Atal Ji.

Former President Pranab Mukherjee pays tribute to Atal ji.

Senior Congress leader Sonia Gandhi pays tribute to Atal ji.

I pay tribute to him. The country has lost the tallest leader. He was a tree under whose shade many found refuge: Union Minister Ram Vilas Paswan