Exclusive! Darr Ke Aagey Maut Bhi Ho Sakti Hai: Soft drinks
Saurabh Sharma
Lucknow: "Darr Ke Aagey Jeet Hi Nahi Maut Bhi Ho Sakti Hai," will be the perfect tagline for re-bottled soft drinks coming to the market these days.
As now the newztrack.com has found a 200 ml bottle of Pepsico made 'Mountain Dew' not just filled with the soft drink but it also has some solid content, which appears to be like a spring of onion, inside it.
The bottle of the cold drink is sealed but the content inside it appears to be spurious.
This is, however, not the first case of things found inside the bottle of soft drink as earlier in August last, the Pepsico India was slapped with a fine of Rs 55,000 in southern Indian province after an insect was found inside the 200 ml bottle.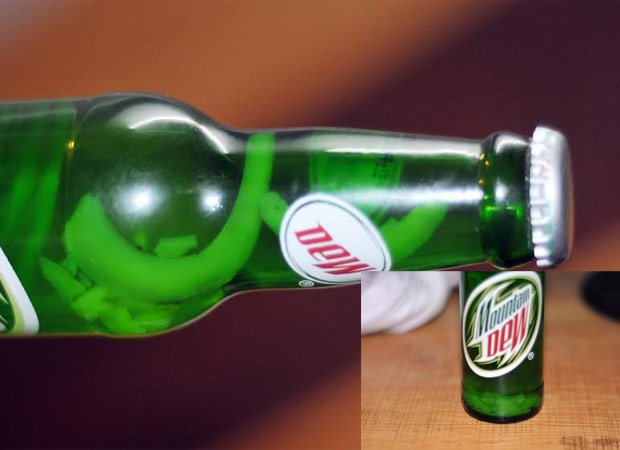 What FSDA says?
If such substances are found inside the bottle of a cold drink then it is an absolute case of carelessness and unhygienical attitude while re-bottling, said a senior office bearer of the Food and Drug Security Administration (FSDA).
The FSDA official even requested to get the bottle submitted to them so that they can come to a conclusion as it is very hard to tell about the spurious content without testing.
The officer, however, admitted that the content inside the bottle can turn out to be very harmful for the human consumption.
No official from the Pepsico India was available for the version.