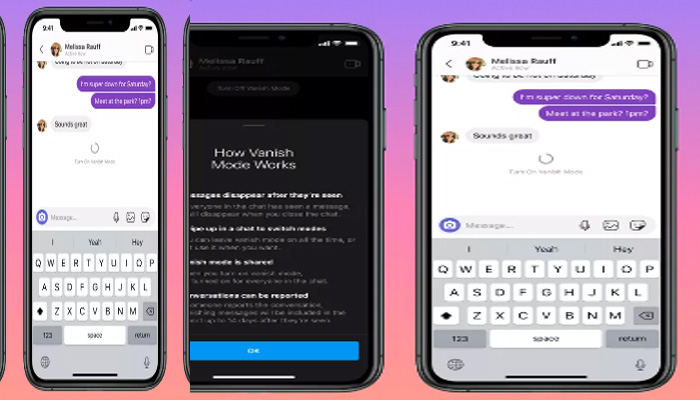 Vanish Mode by Facebook (PC: Social Media)
Lucknow: Facebook has launched a new mode named Vanish for its two social platforms Messenger and Instagram. This Vanish mode, which comes in Facebook Messenger and Instagram, is in a way similar to WhatsApp's upcoming feature Dis-Apparing. Vanish mode is currently live in the US and some other countries on Facebook Messenger and Instagram.
Vanish Mode for Messenger and Instagram:
Through Facebook's Vanish feature, you can decide whether any of your messages will be automatically deleted. Also, let us tell you that the message sent in Vanish mode will not be forwarded and no one can reply by quoting it. Messages sent in Venetian mode will not appear in chat history. Simply put, the Vanish Venetian mode is just for instant chatting.
Use of Vanish Mode:
Now the question is how to use Vanish mode, then tell you that after the new update you just have to swipe a chat upwards and then swipe down to exit Vanish mode. Vanish mode can be used for text chatting, pictures, photos, GIFs etc.
With Vanish mode, Facebook has also taken care of privacy and security, that is, if you are already connected to someone on Facebook or Messenger, then you can use Vanish mode for chatting. One advantage of Vanish mode is that if you take a screenshot while chatting in this mode, you will get a notification.
LG Smartphones:
LG has launched a smartphone in the market. The price of which is in your range. Today we know the features of this phone. This phone has an HD + display with dual camera setup in this phone and this phone is being given with a strong battery.
Let us know that this phone is being given a 6.52-inch IPS LCD display. You can buy this phone in Midnight Blue color.
Stay tuned with the newstrack to get fastest updates. Click @englishnewstrack to follow us on Facebook and @newstrackmedia to follow on twitter.
Keep yourself updated with latest news through Newstrack App. To download App from Google Playstore visit here - Newstrack App