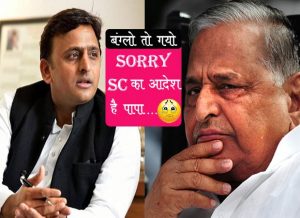 Lucknow: The Supreme Court order asking former chief ministers of Uttar Pradesh to vacate the sprawling bungalows  occupied by them  has created  a piquant situation for the present state chief minister Akhilesh Yadav. Akhilesh may render his father "homeless". Former defence and chief minister of Uttar Pradesh has been residing in the house allotted to him as former …
Continue reading "S C Order: Akhilesh may render his father homeless"
New Delhi: Scrapping its own controversial judgement of single common entrance test (NEET) for admissions in MBBS, BDS and PG courses in private medical institution, the Supreme Court on Monday said that the decision was taken by the then Chief Justice of India Altamas Kabir without any discussion on the day of his retirement. A five-judge Constitution Bench headed …
Continue reading "Supreme Court scraps its own verdict on NEET"
New Delhi: As a final blow to the Sahara group, the Supreme Court on Tuesday directed the Securities and Exchange Board of India (SEBI) to start selling the properties of Sahara to repay millions of the investors. The Court also asked to use proceeds of the sale for the bail of Sahara chief Subroto Roy who is in …
Continue reading "Sell all the Sahara properties, the Supreme Court tells SEBI"