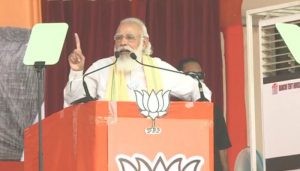 Addressing the people, Prime Minister Narendra Modi said that the people of Bihar have made up their mind, determined that those whose history is to make Bihar sick, will not let them get around.
Sasaram (Bihar): A man was killed and several others were injured in a bomb blast outside local court on Wednesday in Sasaram of Bihar. According to the reports, the bomb was planted on a motorcycle which was standing outside the court. Senior police officers have rushed to the spot. Injured were rushed to the spot. …
Continue reading "One killed in a bomb blast out court in Sasaram of Bihar"