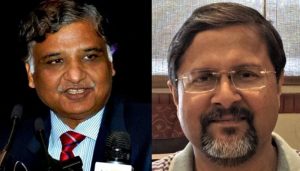 The Appointments Committee of the Cabinet, headed by Prime Minister Narendra Modi, approved their appointments for a fixed two-year tenure, an order issued by the Personnel Ministry said.

New Delhi: The Central Bureau of Investigation (CBI) Director Rakesh Asthana has been booked by his own department for accepting Rs 2 crore bribe in Moin Qureshi money laundering case. Special Director of Research and Analysis Wing (RAW) Samant Kumar Goel's role is also under the scanner but he has not been made an accused …
Continue reading "CBI director Rakesh Asthana accused of accepting Rs 2cr bribe"
Islamabad: The Pakistani police claimed to have arrested two alleged Research and Analysis Wing (RAW) agents from the southern Sindh province on Saturday. "The RAW agents were detained from Thatta city during raids on a tip-off," said Senior Superintendent of Police (SSP) Counter Terrorism Department (CTD) Naveed Khwaja and added, "the arrested men have been identified …
Continue reading "Pakistani police claim to have detained two RAW agents"