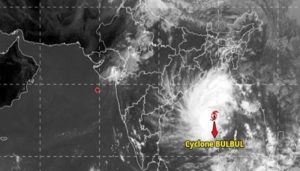 The very severe cyclonic storm 'Bulbul' over the Bay of Bengal is likely to make landfall between West Bengal-Bangladesh coasts by late Saturday evening or night, bringing in its wake very heavy rain and gale wind of up to 135 kmph along the coastline, the MeT department said here.

Chennai: Cyclone Vardah reached Chennai at an unprecedented speed of 140 kmph and remained there for 90 minutes on Monday afternoon before crossing the city and travelling to island. It brought at least 10cm rainfall and caused seven deaths during the period. The weather forecast department has claimed that the worst has passed but a …
Continue reading "Cyclone Vardah: Around 10 cm rainfall leaves 7 dead in Chennai"