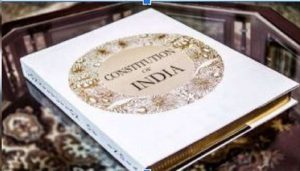 The Constituent Assembly of India was established in 1946. It met for 166 days spread over 2 years, 11 months and 18 days.

New Delhi: It is to be mentioned that in 1994, a five-judge Constitutional Bench, hearing the M Ismail Faruqui vs Union of India case, had held that a mosque is not an 'essential part of the practice of the religion of Islam'. The 1994 judgement will be re-evaluated by Supreme Court on Thursday, where SC will decide …
Continue reading "Ayodhya verdict: SC today decides if larger bench should re-examine"

New Delhi: Prime Minister Narendra Modi attacked the opposition parties over the demonetisation issue and said that critics were complaining because the government did not allow them enough time to prepare before the decision was announced. "Those criticising demonetisation move do not have problems with government preparedness, they have problem that they did not get …
Continue reading "Critics complaining because they didn't get time to prepare: PM Modi"