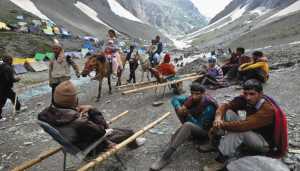 Dehradun: Heavy rains have disrupted the annual Badrinath and Kailash Mansarovar pilgrimage in Uttarakhand as routes have been blocked at many places due to landslides, an official said on Saturday. The Badrinath highway has been shut at the Lambagad area in Chamoli district. The 14th group of pilgrims to the Kailash Mansarovar Yatra has been held …
Continue reading "U'khand rains disrupt Badrinath, Kailash Mansarovar Yatras"
Dehradun: The metrological department have predicted heavy downpour in the next two days in northern part of the country, including Uttarakhand. The hilly state has been devastated by landslides triggered by cloudburst. "The southwest monsoon has further advanced into remaining parts of west Madhya Pradesh, Uttar Pradesh, Uttarakhand, Himachal Pradesh, most parts of Haryana, Chandigarh and …
Continue reading "IMD says next two days are crucial for Uttarakhand"
Uttarakhand: As many as thirty people were feared dead and many houses were washed away, in Ghat area of district Chamoli, due to cloudburst followed by flood in river Mandakini,in Uttarakhand, on Friday. The Rishikesh-Badrinath National Highway (NH-58) has been blocked and the floods in the state had caused a landslide near Devprayag town. Heavy downpour were also reported in …
Continue reading "Thirty killed by flood in Mandakini river in Uttarakhand"