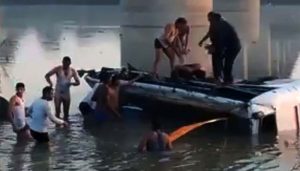 Jaipur: At least 32 people lost their lives and over 15 were critically injured as the bus plunged into the banas river near Sawai Madhopur district, here. The incident took place in the early morning on Saturday after the driver lost his control over the wheels as he was trying to overtake another vehicle on the narrow …
Continue reading "Rajasthan | 32 killed, over 15 injured as bus plunges into river "

Karachi: At least 30 died while more than 100 injured on Saturday in a blast at Shah Noorani shrine in Balochistan province of Pakistan. Women and children were also among the killed. The explosion took place when devotees were attending dhamaal (a Sufi dance) at the shrine. Confirming the mishap, Balochistan interior minister Mir Sarfaraz …
Continue reading "30 killed, more than 100 injured in Pakistan's shrine blast"

Baghdad: At least 32 persons were killed while 60 others sustained injuries in a suicide bombing attack targeting Shia worshippers on Saturday. "The latest report said that 32 persons were killed and about 60 injured in the suicide bomb attack at a mourning tent in Baghdad's northeastern neighbourhood of al-Shaab," said media reports. The horrifying …
Continue reading "32 killed, 60 injured in suicide bombing attack in Baghdad"