Kiren Rijiju aims of India finishing in Top 10 medal tally at 2028 olympics
Sports minister, Kiren Rijiju recently adressed a webinar where he highlighted the idea of every state adopting one sport for its development.
New Delhi: With staggering coronavirus cases around the world, 2020 Olympics is heading towards cancellation. But, India wishes to soar high in the upcoming Olympics. Keeping this in India, sports minister, Kiren Rijiju has asked every state to adopt one sport. He believes that by doing this, India can perform great in 2028 Los Angeles Olympic games. Rijiju recently addressed a webinar on 'Role of Coporate India for Fit India' organized by Assocham. Here, he talked about the idea of every state focusing on development of one sport.
Also read: Sourav Ganguly turns 48; cricket fraternity celebrates the day
Here's what all Rijiju spoke
"We have written to the states to choose (a sport). For example, if Manipur chooses boxing and sepak takraw, it also can do football or archery but it has to focus on the discipline it has selected."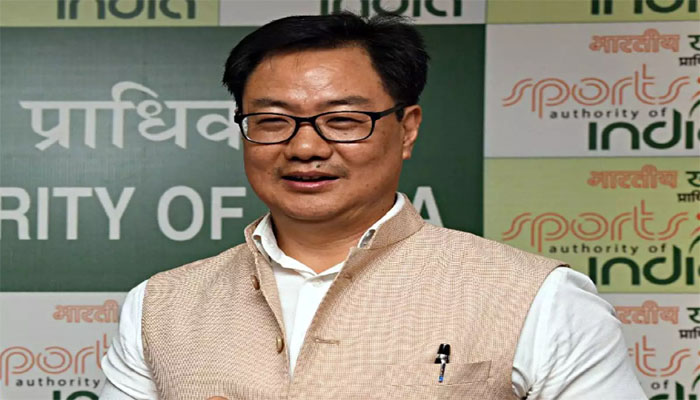 "We have made certain policy changes like each corporate will be advised to adopt a certain discipline and focus on it. It won't stop you from supporting other sports," he added.
Rijiju focused on the fact that India is a big country and it can focus on various disciplines if each states takes a sport.
"We have 36 states. If we work as 36 countries focusing on certain sporting discipline that will give the result," he said.
"I have set a target that India should be in the top 10 by 2028 Los Angeles Olympics. But India will not reach there just by setting a target."
"If I see the performance of each country and if India wins 10-12 gold medals in Olympics then it will be most likely in the top 10 because the top 4-5 countries like China and USA are above 40-50 gold medals," he added.
"A country the size of India won't be playing just one or two disciplines. We have identified 14 disciplines as priority sports like archery, wrestling, boxing, hockey, shooting etc. But besides that I have kept the option open for more," he said."
Stating the role of corporate sectors in development of sports, Finally he said-
Some of the corporate facilities are excellent. I think those top athletes which we have identified through the federation will use facilities of the corporate."
"We need to integrate the sports federation, the government and the corporate. We have to come together and augment all our resources together in the same direction.," he added.