Here is everything you need to know about Bio-Secure Stadium
As International cricket resumes after halt of 4 long months, It will be played in Bio-Secure environment. Here's everything about the bio-secure stadium.
Delhi: As International cricket mark its comeback after 4 long months, people are eager to know how will the game look like. West Indies has already reached England and will play against host England for 3-match test series. The live action will commence of 8th July and preparation are in full swing. According to Initial plans, matches were about to take place on The Oval, Edgbaston and Lord's. But, there is a change of venue as 'bio-secure' stadium is the new plan amid coronavirus precautions.
The latest venue for matches is Ageas Bowl, Southampton and Old Trafford in Manchester. Both the stadiums have onsite hotels, hence safety and security will be in place to its optimum level. Also, no crowd will be allowed in any of the stadiums to witness the action, in wake of COVID-19 safety
Also read: SIU questions Lankan Batsman Upul Tharanga in 2011 WC fixing charges
What is Bio-Secure stadium?
A bio-secure stadium/place is made to prevent the spread of harmful virus/infection. With bio-secure stadiums in place, ICC is looking forward to cut down the risk of spreading virus. To further add to the bio-security, the first match will take place at Ageas Bowl while the other will take place at Old Trafford. These stadiums have onsite hotels too. It will ensure that no players/team/bus moves out of the 'bio-secure' zone.
West Indies team will undergo the quarantine period of 3 weeks before appearing for 1st match. Other match officials will also have to stick to the rules laid down by England Cricket Board.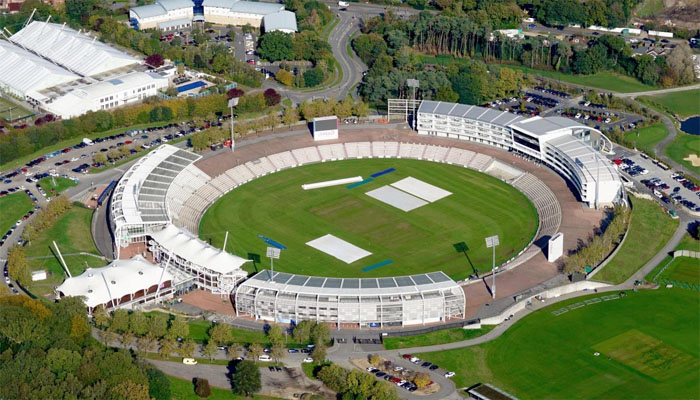 Rahul Dravid earlier stated that playing in a 'bio-secure' environment seems 'unrealistic'.
"It is a bit unrealistic to have things at the level, the ECB is talking about. Obviously, the ECB is very keen to conduct these series because they have had no other cricket."
"Even if they are potentially able to create a bubble and manage it in that way, I think it will be impossible for everyone to do it with the kind of calendar that we have, with the travelling that you do on tours and the number of people involved."
Even South India Cricket Board has suggested to try out bio-secure environment while playing against India.
Also read: Yuvraj Singh's wish on Turbanator Harbhajan's b'day will leave you in splits