Big Lankan players mock the '2011 WC Final was sold by Sri-Lanka' claim
Big Sri Lankan players came forward and mocked the 'Sri Lanka sold the 2011 WC final' statement given by former sports minister of Sri Lanka
New Delhi: The recent news that has startled the cricket world is 2011 final was fixed. Former Sports Minister of Sri Lanka, Mahindananda Aluthgamage said 'Sri Lanka sold the WC 2011 final'. After hearing this claim, big names from Sri Lanka cricket team came forward and mocked statement given by Mahindananda Aluthgamage.
Let's hear what Aluthgamage said-
"In 2011, we were to win, but we sold the match. I feel I can talk about it now. I am not connecting players, but some sections were involved."
"When we lost, I was distressed and I had a doubt," he stated in 2017 July. "We must investigate what happened to Sri Lanka at the 2011 World Cup final."
"I cannot reveal everything now, but one day I will. There must be an inquiry," he added.
Read full story here:Sri Lanka 'sold' 2011 WC Final: Former Sri-Lankan Sports Minister
Now this statement led to great disturbance among Sri Lankan players. Former captains, Mahela Jayawardena and Kumar Sangakkara lost their cool and asked him to prove the same.
https://twitter.com/KumarSanga2/status/1273578234718957568
Kumar Sangakkara was the captain when Sri Lanka played against India in WC 2011 final. He has asked the minister to produce the proper evidence so that actual investigation can take place. Coach and former Cricketer of Lanka, Mahela Jaywardena seemed absolutely furious over this matter. In context to minister's claim, Jayawardena said that minister's statement looked like some tactic to gain supports in elections.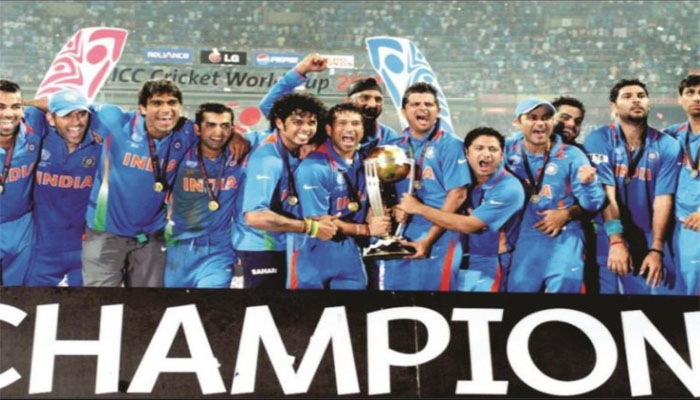 India lifted the 2011 WC trophy by defeating Sri Lanka with 6 wickets. While batting first, Sri Lanka posted the target of 274-6 for India. Lanka appeared in dominating position but their casual bowling and fielding led to India's victory. The final took place in Wankhede Stadium in Mumbai and men in blue were led by M.S. Dhoni.
Also read: Ban Chinese food in India says Union Minister, Ramdas Athawale