Aaron Finch lauds Virat Kohli's constant form in various formats
Aaron Finch recently praised Virat Kohli for his constant form. Says, there are only few players who display consistency across various formats.
New Delhi: Australia's limited overs skipper, Aaron Finch is all praises for Skipper Virat Kohli. Finch has observed how India has peaked as a major cricketing nation in recent times. Finch recently appeared on the 'Sony Ten Pit Stop' show and spoke on Kohli's consistent splendid form.
Aaron Finch have had his ups and downs but he's is the significant figure in Aussie's batting line up. He also knows that consistency is the only key that takes a player long in the game. Finch named some classic players from India and Australia who have impressed him. Here's what he said
Finch applauds Kohli and Tendulkar
"Every player, regardless of who it is, has a bad series. But very very rarely do you see Kohli, (Steve) Smith, even going back (Ricky) Ponting, Sachin (Tendulkar), these guys they don't have two bad series in a row."
Also read: Dhoni isn't a fan of DRS while Kohli is opposite: Aakash Chopra
Throwing light on Kohli's form, he said-
"What has been so impressive for so long is just his consistency across three formats. To be the best player of all-time in ODI cricket is one thing but then to also be in Test cricket and T20 cricket as a rounded player that is remarkable."
"The pressure of playing for India is one but also leading India is another and the way, he has done it, so consistently for a long time.'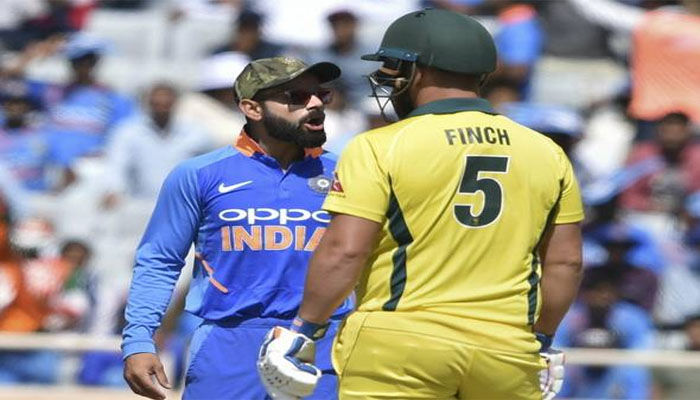 "And taking over MS Dhoni, the leadership, that is huge. The expectations were high and he kept delivering and I think that is the most impressive thing," added Finch.
Aaron Finch has a batting average of 40 and around 5000 runs to his credit in ODIs. In T20 internationals, he holds batting average of 40 and nearly 2000 runs to his credit.
Also read: 2014 Adelaide Test: Virat Kohli Recalls Learnings from 1st Test Match