Transfer of Lucknow DM finds unusual prominence in the social media
Raj Shekhar's fans took to social platforms posting that the DM's transfer would lead to the downfall of Akhilesh government. There has been campaign on social media to bring him, back to the city. Some city residents have also declared it as the worst news of the year
Lucknow: Much noise was raised in social media and other sections following the transfer of District Magistrate Raj Shekhar from Lucknow. The social media was flooded with posts describing Lucknow DM as the best District Magistrate till date.
Raj Shekhar's fans took to social platforms posting that the DM's transfer would lead to the downfall of Akhilesh government. There has been campaign on social media to bring him, back to the city. Some city residents have also declared it as the worst news of the year.
Journalists decry decision:
Apart from what the residents say, there are some journalists who are unhappy with the decision. He has always been a favourite of the city media persons. His attitude towards media and his availability for them has always been liked by the scribes.
Reason behind Raj Shekhar's transfer:
According to sources close to the DM, the transfer was the result of his confrontation with some political leaders.

If rumour are to be believed, he was transferred because he refused to change the land use policy on favour of some senior politician.
Lucknow DM has requested to divert his transfer to Bareilly:
According to the recent reports, he has met the Chief Minister Akhilesh Yadav and asked him to cancel the transfer as he is facing some family problems.

Shekhar has told the CM that he would like to remain in the state capital because he has some family obligations to fulfil.

He is likely to get some other post at Lucknow, most probably as Director, Mandi Parsihad.
What government says:
His transfer was a routine administrative exercise.

He himself wanted to be moved out from this post after having served as Lucknow DM for 925 days.

In any case, he would have been completing three year tenure by the time assembly elections were announced.
Here are some snapshots of the WhatsApp group, 'LKO Admin & Media', that was created by the DM himself for interacting with journalists: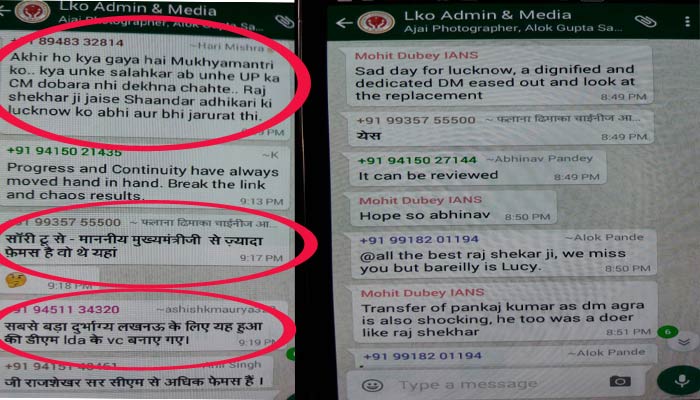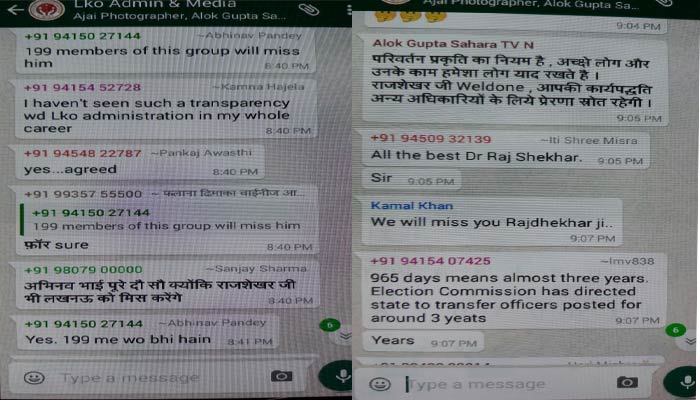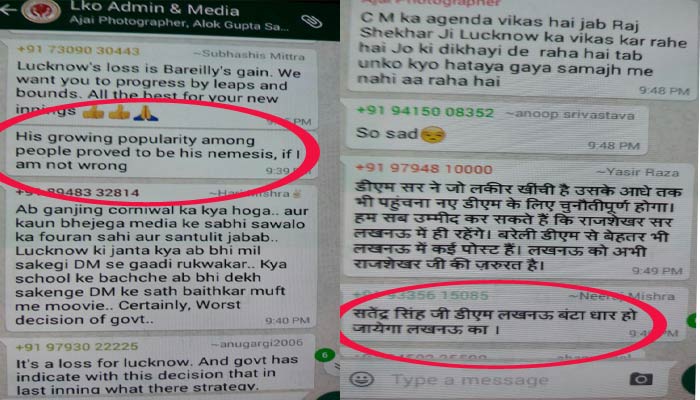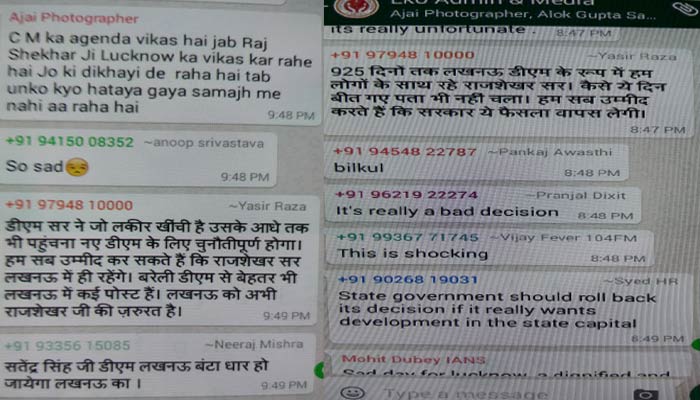 Also Read: UP government transfers 21 IAS, 83 IPS officers in major rejig