Traffic campaign takes wrong turn, Jaipur cops apologise to Bumrah
The cricketer did not really like it and posted a taunting tweet on his official twitter account indicating that the players give their best for the country and should not be trolled for mistakes
Jaipur: An awareness drive by the traffic police of the pink city went on the wrong side, when it did upset the Indian national cricket player Jasprit Bumrah.
While the Jaipur traffic cops decided to start an awareness campaign about 'crossing the line' by featuring an image from the ICC Champions Trophy 2017, where Jasprit Bumrah's no-ball act was highlighted, the drive backfired at them as it offended the baller to an extent that he took to twitter to express his frustration.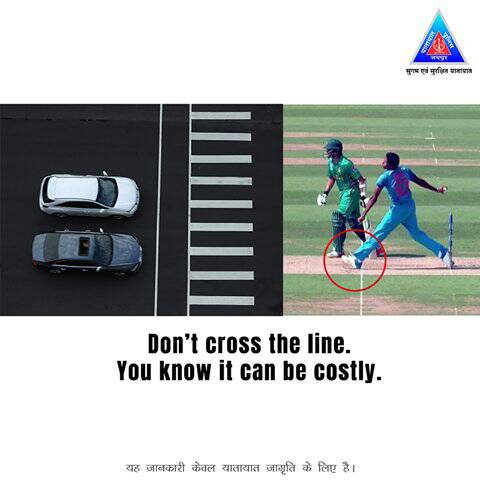 The case:
Jaipur Traffic Police launched a campaign advocating road safety.

They put up hoardings and posters on every square and bus stand and featuring Bumrah's 'crossed line' no-ball picture to point that one must be careful to 'NOT' cross the line.

"After all, it can prove costly, like it did for Bumrah," the posters stated.

The cricketer did not really like it and posted a taunting tweet on his official twitter account indicating that the players give their best for the country and should not be trolled for mistakes.
Also Read: Railway board categorically denies auctioning railway stations
The traffic department has, however, apologised to Bumrah and stated him as the Icon of the sportsmen in the country, promising that such acts will never happen again.
Well, all we can say is, this month 'Crossing the lines' has created much stir in the country.
In slides ahead: Check out the tweets from Bumrah and Jaipur Traffic police...
https://twitter.com/Jaspritbumrah93/status/878221654479876096
https://twitter.com/traffic_jpr/status/878263716910743552
https://twitter.com/traffic_jpr/status/878263862700646400
https://twitter.com/traffic_jpr/status/878263922540687360