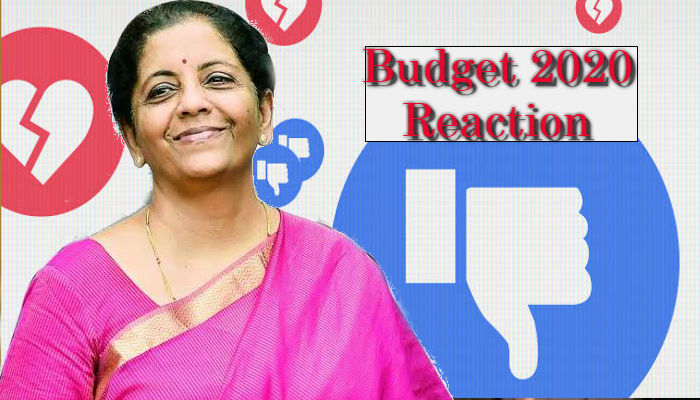 What Opposition says on Budget 2020, know here
New Delhi: Finance Minister Nirmala Sitharaman presented her second Budget today. This union budget gave rexation to tax payers, students and Farmers especially. After completion of 2.5 hour long budget speech, oppostion parties started giving their reactions on the budget.
Congress Party said the Union budget "insipid" and lacking in stimulus for growth, the Congress on Saturday said the government's annual financial statement comprises piecemeal measures, repackaged schemes, jugglery of tax slabs and has no real solutions to solve the economic crisis.
Senior Congress leader Ahmed Patel said that at a time when India is in the midst of an economic downturn, Finance Minister Nirmala Sitharaman's budget speech focuses more on praising the prime minister rather than helping the common citizen.
Many opposition leaders shared their thoughts on budget 2020 through social media.  Ahmed Patel tweeted, "Longest Budget speech is also the most lacklustre budget ever. After Acche Din, New India, it now appears that the government has also abandoned the target of USD 5 trillion economy".
NIRMALA SITHARAMAN SAID : 
FDI is important as the country requires major investments to overhaul its infrastructure sector to boost growth. The government last year relaxed foreign investment norms in sectors such as brand retail trading, coal mining and contract manufacturing.
OPPOSITION REACTION: 
This budget confirms not only the bankruptcy of the economy but also a bankruptcy of government's ideas, he claimed. "Piecemeal measures, repackaged schemes, jugglery of tax slabs & no real solutions to solve the present economic crisis," Patel said referring to the Union Budget.
Patel also said that after "harassing" tax payers for last six years, the government seems to have realised its disastrous impact on the economy.
RAHUL GANDHI ON BUDGET:
After the bidget session when asked by Media Rahul Ganshi clears hi point of view saying that he dissmisses this union budget. He further said, the main issue facing the country is unemployment, adding that he didn't see any strategic idea that would help our youth get jobs.
The Congress, on its official Twitter handle, also said that core sector growth stood at 1.3 per cent in December, despite the significant fall from the same time last year, and Budget has failed to layout a roadmap on how the government plans to address this serious issue.
AKHILESH YADAV IS DISAPPOINTED: 
Akshilesh Yadav's reaction also came on budget 2020, He said there was nothing for the development of farmers. And BJP Govt easily ignored the problem of unemloyment. He called central goverment "DIWALIYA".
ARVIND KEJRIWAL: 
Delhi had high expectations from the budget. But once again the Delhiites were treated half-heartedly. Delhi does not come in BJP's priority, so why should Delhi vote for BJP? The question is also that when the BJP is disappointing Delhi before the election, will it keep its promises after the election?
Keep yourself updated with latest news through Newstrack App. To download App from Google Playstore visit here - Newstrack App