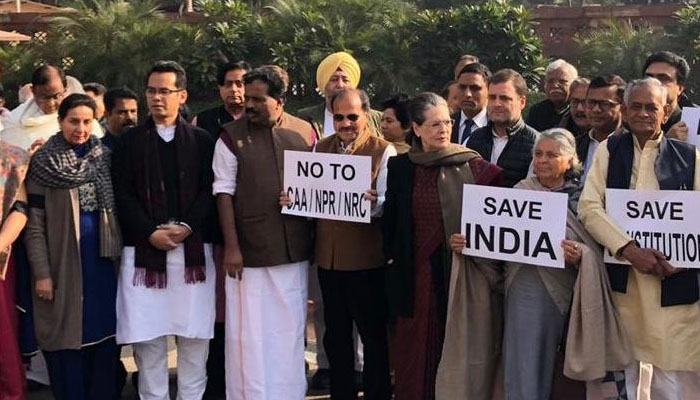 The BJP government is clueless: Congress
New Delhi: Parliament budget session started with the speech of President RamNath Kovind. After President's speech the Congress party said the President's address was a "tiresome repetition of old slogans and old cliches" that have lost all meaning and does not have a word on the macroeconomic situation, lost jobs and increasing unemployment.
Congress President Sonia Gandhi, Rahul Gandhi & senior Congress leaders hold a Save The Constitution protest outside Parliament today. Party member said the address is silent on the swindling investment in the country and rising number of stalled projects as the government is "clueless".
"All that we heard was tiresome repetition of old slogans and old cliches that have lost all meaning in the last few years.
"Sadly, there was not a word on the macro-economic situation. Not a word on lost jobs, increasing unemployment and rising consumer price inflation. Not a word on the closure of thousands of industries, especially in the SME sector," he said on Twitter.
P. Chidambaram also posted on his social media account, "The President's Address is the first policy statement of the government in the new year. I looked for indications on how the government intended to tackle the grave economic slide. Alas, I found none."
Official page of Congress tweeted, "Whether your govt believes these values strengthen democracy doesn't matter, they're not interested in democracy, they want dictatorship. And so, they spew hatred, incite violence, condone police brutality, crackdown on free speech & peaceful protest & disrespect the Constitution".
He also said the government is clueless, "and therefore the President's Address was silent, on dwindling investment and rising number of stalled projects. The future of the manufacturing sector is bleak".
Keep yourself updated with latest news through Newstrack App. To download App from Google Playstore visit here - Newstrack App