Senior SP leader resigns from party's state executive
Lucknow: Rahul Kaushik, a senior Samajwadi Party (SP) leader has resigned from party's state executive alleging that the party was neglecting the majority.
Rahul is the son of noted socialist leader Ramashanker Kaushik who was very close to party Chief Mulayam Singh Yadav.
"I am thankful to Chief Minister Akhilesh Yadav for nominating me to the state party executive but now it is very difficult for me to work in this atmosphere," Rahul stated in his letter written to Akhilesh Yadav.
Majority class was very hopeful from me:
Rahul in a telephonic conversation with newztrack.com on Friday said that people of the majority class, especially from western Uttar Pradesh, were very hopeful, but the party was neglecting the majority.
"If officers do not give importance to a member of state executive of ruling party then it is an insult to the honour and dignity of the post," Rahul adds.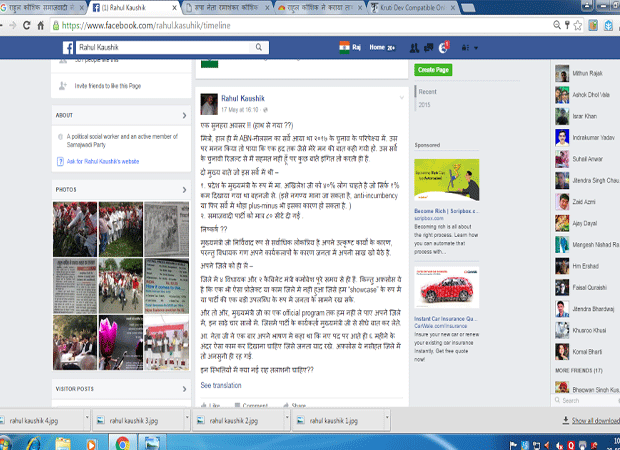 Screenshot of Rahul Kaushik's facebook post
Who is Ramashanker Kaushik?
Ramashanker Kaushik was one the founder members of the SP.
He was elected as member of UP Vidhan Sabha in 1977 for the first time.
He held the position of Labour and Health minister from 1978 to 1980.
Kaushik was nominated f to the Rajya Sabha in 1998 by SP.