Amit Shah's visit effect: SP MLCs resign from the House
According to the political analysts, this could be the game plan of the Bharatiya Janata Party, who is eyeing to send the UP deputy CMs Dinesh sharma and Keshav Maurya to the legislative council of the state. "After the two MLCs resigning
Lucknow: In a development being linked to the visit of BJP President Amit Shah to the state capital, senior Samajwadi Party leader Yashwant Singh and Bukkal Nawab resigned from the membership of the Uttar Pradesh legislative council and the party.
It is also being speculated that another SP MLC Madhukar Jaitley may also resign from the party today.
According to the political analysts, this could be the game plan of the Bharatiya Janata Party, who is eyeing to send the UP deputy CMs Dinesh sharma and Keshav Maurya to the legislative council of the state. "After the two MLCs resigning from their posts it could be expected that BJP may send Maurya and Sharma to these seats," political sources stated.
Also read: To take care of a lot in the party, Amit Shah arrives in city
With Bukkal Nawab applauding the works of the BJP government in the state and PM Modi, the speculations are also rife about these leaders leaving hands of the SP and joining the saffron party soon.
Yashwant Singh's resignation letter: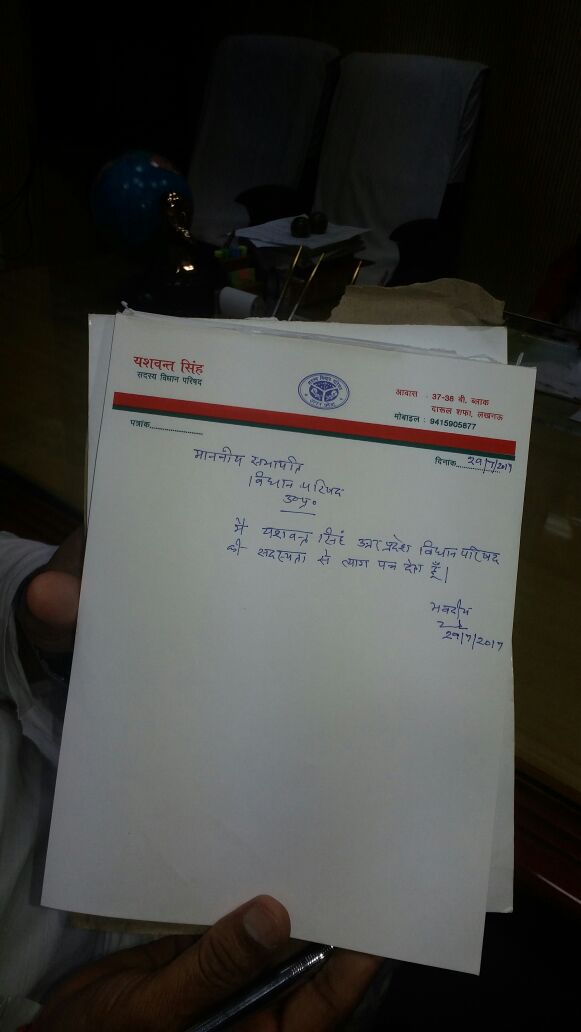 It is worth mentioning that Nawab is considered to be a close associate of the Samajwadi Party Patron Mulayam Singh Yadav and was a loyal member of the party since years. After his resignation the leader addressed media and stated that his resignation came as he was not been given the appropriate acknowledgment in the party after Akhilesh Yadav took over the reigns of the SP.
"I cannot stay in the party where no one respects Netaji (Mulayam Singh yadav). Not only me, many senior leaders will be resigning from the party in coming days," stated Nawab.