Mulayam rejects Shivpal resignation but the crisis persists in UP 
The drama started on Monday after sacking of two ministers Gayatri Prajapati and Raj Kishore followed by a series of incidents which led to the resignation. Earlier on Thursday, hectic parleys took place in the state capital involving Party Presdient Mulayam, CM Akhilesh and senior party leaders Ram Gopal Yadav and Shivpal , incidentally belonged to one family
Lucknow: An embattled Samajwadi Party President Mulayam Singh Yadav, whose silence during the last few days has been intriguing, on Friday rejected the resignation of party heavyweight Shivpal Singh Yadav though the political crisis in Uttar Pradesh is far from over.
Shivpal, who resigned from the post of State SP President as well as the Minister, on Thursday night and had sent his resignation to the Party Supremo and the Chief Minister Akhilesh who had already refused the accept the same in the night itself. Shivpal, on Friday, morning went to Mulayam's place and closeted with him for just 10 minutes to handover his resignation which, subsequently, was rejected.
Meanwhile, the residence of Shivpal has become a hub of activities with hundreds of supporters gathering there raising slogans in his favour. UP assembly speaker Mata Prasad Pandey, sacked minister Gayatri Prajapati, minister Narad Rai and several legislators and party workers from his assembly constituency of Jaswant Nagar reached at his residence in a display of solidarity.
The unexpected 'show of strength' has clearly defined the division lines with the ruling party as some of workers donning 'Shivpal T-shirts' were heard shouting against the party General Secretary Ram Gopal Yadav and even the Chief Minister Akhielsh Yadav, though not so vociferously.
Speaking to his supporters Shivpal, however, tried to calm down the tempers of his supporters asking them to put forward their view to the Party Supremo reiterating that Mulayam's word would be final.
The drama started on Monday after sacking of two ministers Gayatri Prajapati and Raj Kishore followed by a series of incidents which led to the resignation. Earlier on Thursday, hectic parleys took place in the state capital involving Party Presdient Mulayam, CM Akhilesh and senior party leaders Ram Gopal Yadav and Shivpal , incidentally belonged to one family.
All eyes are now focussed on Mulayam who, incidentally, has not spoken a single word publicly despite every disgruntled leader had expressed faith and confidence in him.
The differences between Akhilesh and Shivpal had come to the fore in June last when the former reversed his uncle Shivpal decsion about merger of mafia-turned politician Mukhtar Ansari;s party merger in the SP.
In slides: See how the political drama unfolded...
The chain of events which led to the current crisis:
On June 21, Shivpal had merged Mukhtar Ansari's Quami Ekta Dal (QED) and Samajwadi Party (SP).

Opposing Shivpal's step, Akhilesh had cancelled the merger.

On August 14, Shivpal had raised the issue of brokerage and created a furore in political circle by saying that he would resign from the party if atrocities against deprived are not stopped.

Party Chief Mulayam Singh Yadav had also held Akhilesh led Uttar Pradesh government responsible for this on Independence Day at party office.

Shivpal had diluted the issue, saying 'all is well within the party and Samajwadi family'.

Shivpal had said no one including Akhilesh Yadav could stop the merger of QED-SP merger.

Calling Akhilesh inexperienced, Shivpal had said that former is too young and learning politics.

On September 12 (Monday), Akhilesh sacked Mining Minister Gayatri Prasad Prajapati and Panchayati Raj Minister Raj Kishor Singh.
Also Read: Drama in UP is yet to be over , Mulayam holds the key
Akhilesh, on Tuesday, removed Chief Secretary Deepak Singhal and posted Rahul Bhatnagar as the new CS.

Hours after Akhilesh's step, Mulayam appointed Shivpal as the Samajwadi Party State President by Mulayam replacing Akhilesh Yadav.

After this Akhilesh, in an unexpected manner, stripped his uncle Shivpal of important portfolios of PWD and irrigation and handed him less important portfolios.

Sulked over the decision, Shivpal proceeds to his native place in Etawah from where he goes to Delhi to meet Mulaym there.

After two days, all the leaders return to Lucknow while Mulayam anchors the damage control.

Suddenly, the late Thursday night, Shivpal resigned from all the posts.
You may also read: Curious turn: Ram Gopal Yadav questions Mulayam's decision
Also Read: It is not a fight within the family but the government: Akhilesh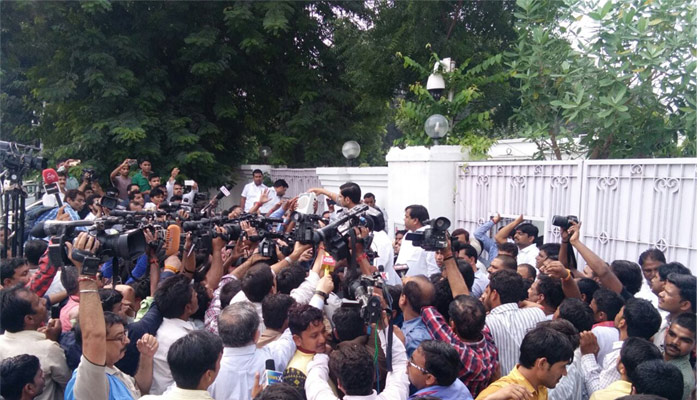 Also Read: Shivpal revolts, resigns from all party and government posts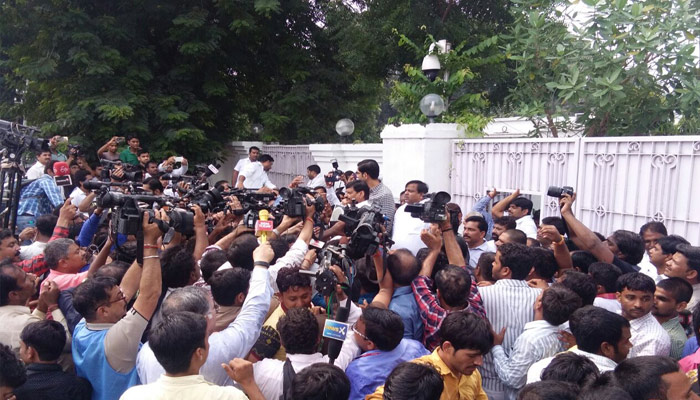 You may read: Mulayam may get relief in infamous 'Guest House Case', legal experts