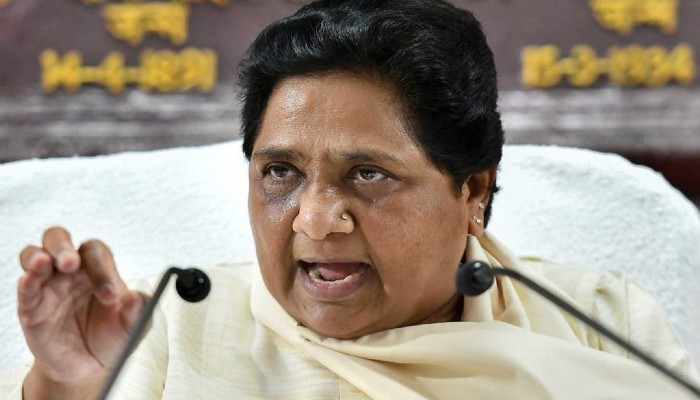 Mayawati (PC: Social Media)
Bahujan Samaj Party supremo Mayawati on Saturday appealed to the Uttar Pradesh government to make farmers aware about stubble burning and its impact on air pollution, before initiating any action against them.
Mayawati slams Yogi:
In a tweet in Hindi, Mayawati said, "The atrocities on farmers in the garb of pollution caused due to stubble burning in UP is extremely condemnable. The government before taking any action against farmers, should make them aware and give them necessary assistance. This is the demand of the BSP."
Look at her Tweet!
यू.पी. में फैले प्रदूषण को लेकर खासकर यहाँ पराली जलाने की आड़ में किसानों के साथ हो रही जुल्म-ज्यादती अति निन्दनीय। जबकि इस मामले में सरकार को कोई भी कार्यवाही करने से पहले, उन्हें जागरूक व जरूरी सहायता देने की भी जरूरत। बी.एस.पी.की यह मांग।

— Mayawati (@Mayawati) November 7, 2020
The tweet by Mayawati comes a day after Uttar Pradesh Chief Minister Yogi Adityanath directed officials to ensure that farmers are not harassed or misbehaved with them when action is taken against stubble burning.
The Chief Minister also said new experiments to use crop residue should be encouraged and projects to prepare bio fuel/power from stubble should be reviewed.
ALSO READ: Ensure farmers aren't harassed over stubble burning: CM Yogi to officials
The farmers, Adityanath said, should be made aware that burning stubble is not good for the environment and fertility of land. "The Supreme Court and the National Green Tribunal have declared stubble burning a punishable offense. Instead of doing this, farmers should take advantage of those schemes by which the straw can be disposed off and made useful. The government is also giving grants on such agricultural machines. In many places, farmers have made stubble a means of earning through these agricultural machines. The rest of the farmers can also learn from them."
ALSO READ: Rhea Chakraborty's brother Showik seeks bail again; Files fresh application
Attack from Opposition:
Earlier, on the action taken against farmers.  Akhilesh Yadav had tweeted, "People who put the farmers in jails in the name of burning stubble in the name of environmental pollution should also tell that when the action will be taken against political polluters. The farmers will now dig up the BJP's field."
ALSO READ: US Election 2020: Biden on the Cusp of Victory, leads in 3 crucial states
Priyanka Gandhi said, "Are only farmers responsible for pollution? When will the real responsibilities of pollution be taken? Farmer's vote – legal, farmer's paddy – legal, farmer's straw – illegal?"
ALSO READ: CM Yogi to be in Ayodhya for Deepotsav, curbs introduced for festive days
Stay tuned with the newstrack to get fastest updates. Click @englishnewstrack to follow us on Facebook and @newstrackmedia to follow on Twitter.
Keep yourself updated with latest news through Newstrack App. To download App from Google Playstore visit here - Newstrack App