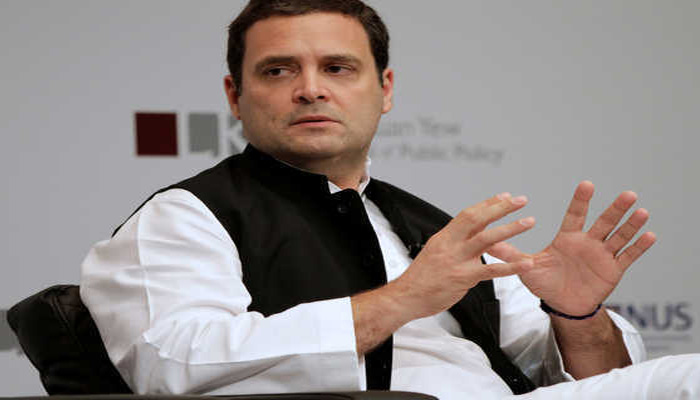 Rahul Gandhi (File Photo)
Lucknow: Congress leader Rahul Gandhi has once again attacked the Modi government strongly before the monsoon session begins. Rahul taunted in the tweet saying that the Corona infection figures would cross 50 lakhs this week and the active case of 10 lakhs.
The planned lockdown is due to a person's arrogance, causing the corona to spread across the country.
कोरोना संक्रमण के आँकड़े इस हफ़्ते 50 लाख और ऐक्टिव केस 10 लाख पार हो जाएँगे।

अनियोजित लॉकडाउन एक व्यक्ति के अहंकार की देन है जिससे कोरोना देशभर में फैल गया।

मोदी सरकार ने कहा आत्मनिर्भर बनिए यानि अपनी जान ख़ुद ही बचा लीजिए क्योंकि PM मोर के साथ व्यस्त हैं।

— Rahul Gandhi (@RahulGandhi) September 14, 2020
Save your life; PM is busy with peacocks: Rahul
Modi government said to be self-sufficient i.e. save your life yourself because PM is busy with peacocks.
Remind that the kind of tweet that Rahul Gandhi has made before the monsoon session has increased since then the uproar in Parliament.
ALSO READ: Microsoft's proposal to partner TikTok in US rejected, Oracle wins bid
This time the opposition has made up its mind to surround the Modi government on issues like Corona and China border dispute in Parliament. Since the kind of tweet that Rahul Gandhi has made before the monsoon session. The uproar in Parliament has already started appearing.
Parliament Monsoon session starts today:
It is to be noted that this time the monsoon session will run from 14 September to 1 October. This time the monsoon session has been kept for only 18 days in view of the increasing risk of Corona epidemic. This time on Saturday and Sunday, the proceedings of the House will be seen.
ALSO READ: LIVE: Opposition slams Govt over 'Importance of Question hour'
The monsoon session of Parliament has started since Monday amid the Corona virus crisis. Prime Minister Narendra Modi addressed the media before the begining of the Parliament session. In the Parliament session, there is an attempt to surround the opposition government on the issue of China, but earlier PM Modi asked everyone to stand together on this issue.
Stay tuned with the newstrack to get fastest updates. Click @englishnewstrack to follow us on Facebook. and @newstrackmedia to follow on Twitter.
Keep yourself updated with latest news through Newstrack App. To download App from Google Playstore visit here - Newstrack App