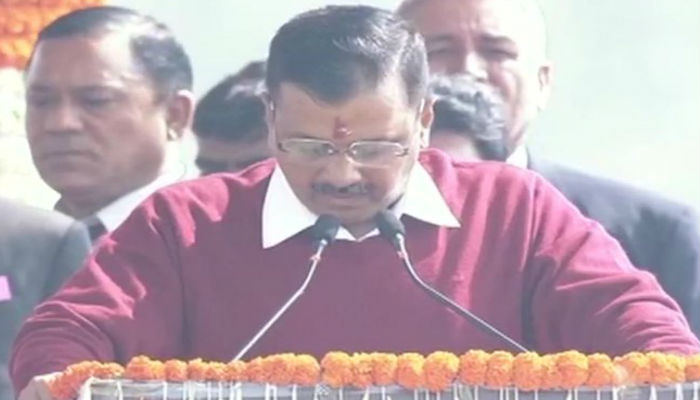 LIVE: Arvind Kejriwal takes oath as Delhi Chief Minister
New Delhi:  Aam Aadmi Party (AAP) chief Arvind Kejriwal took oath as Delhi Chief Minister on Sunday. Aam Aadmi Party (AAP) convenor Arvind Kejriwal, on Sunday, took oath as the Chief Minister of Delhi. This is the third consecutive time that he has taken over as Delhi's CM.
Arvind Kejriwal took oath at RamLeela maidaan as Delhi CM for third time.
Kejriwal Address: 
Kejriwal sung "Hum Honge Kamyaab ek din"
People of Delhi have changed politics of country.
The election is over, whoever you voted does not matter, now all of you are part of my family. I will work for everyone.
He said, Jab Bharat MAA ka har baccha acchi shiksha payega, to Bharat ka Tiranga Aasmaan me lehrayega.
Want to work with Centre to make Delhi number one city.
Want to seek blessings of PM Narendra Modi for smooth governance of Delhi.
Did not give step-motherly treatment to anyone; worked for everyone in last 5 years: Arvind Kejriwal
Your son has taken oath for third time as Delhi CM; this is not my victory but yours: Arvind Kejriwal at swearing-in ceremony.
Live Update:
12.15 PM: Arvind Kejriwal sworn in as CM for the third time
After CM Kejriwal, his ministers took oath
AAP leader and former deputy CM Manish Sisodia is also sworn in after Delhi CM Arvind Kejriwal. Apart from this, Satendra Jain has also sworn in as a minister.
These are special guests:
The stage will be joined by 50 people from various fields along with CM Arvind Kejriwal. These people have been named 'makers of Delhi'. He has contributed to the development of the city in the last five years. Those who joined as chief guests include teachers, bus marshals, architects of the Signature Bridge and families of the fire brigade.
ALSO READ: LIVE: PM Modi arrives in Varanasi, welcomed in full Banarasi Style