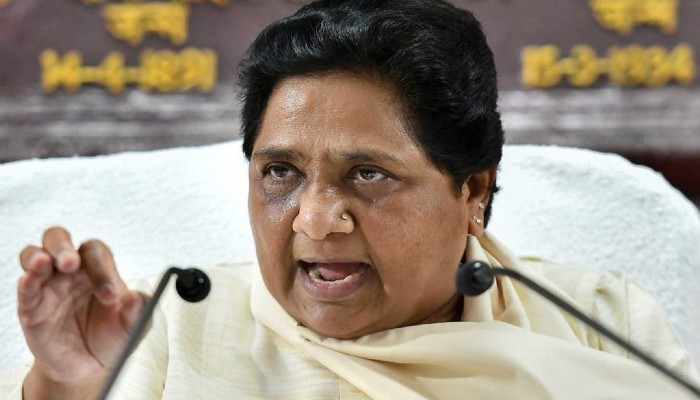 Mayawati (PC: Social Media)
Lucknow: Mayawati, the national president of Bahujan Samaj Party, on Thursday surrounded the Yogi government of Uttar Pradesh in the murder case in front of the officials in Ballia, saying that this murder and harassment of women and girls is clear that the law and order in UP has died down . She has advised the Yogi government to pay attention to this.
Mayawati attacks Yogi Govt:
BSP supremo Mayawati tweeted on Friday morning that the incident of Ballia in UP is very worrying and still the harassment of women and girls on the day, it becomes clear that the law and order here is dead. It will be better if the government pays attention to this. This advice from BSP.
यू.पी. में बलिया की हुई घटना अति-चिन्ताजनक तथा अभी भी महिलाओं व बच्चियों पर आयेदिन हो रहे उत्पीड़न आदि से यह स्पष्ट हो जाता है कि यहाँ कानून-व्यवस्था काफी दम तोड़ चुकी है। सरकार इस ओर ध्यान दे तो यह बेेहतर होगा। बी.एस.पी. की यह सलाह।

— Mayawati (@Mayawati) October 16, 2020
The BSP supremo is constantly attacking the Yogi government over the law and order situation in UP. Earlier on Wednesday, Mayawati tweeted and questioned the Yogi government on the incident of acid attack on three minor sisters in Gonda, UP.
BSP supremo Mayawati has said in a tweet that after attempting to kill the priest by land mafia, the attempt to burn by throwing acid on three Dalit sisters while sleeping in UP's Gonda is very sad and shameful. Such a worsening of law and order in UP is a matter of great concern. After all, why is every type of crime going up in UP?
Mayawati is a constant attacker on the Yogi government of UP on crimes happening in UP. On Monday, Mayawati had surrounded the Yogi government on the murderous attack on a priest in Gonda district and said that the saint is not safe even in the saint's government, it is very shameful.
Stay tuned with the newstrack to get fastest updates. Click @englishnewstrack to follow us on Facebook and @newstrackmedia to follow on twitter.
Keep yourself updated with latest news through Newstrack App. To download App from Google Playstore visit here - Newstrack App