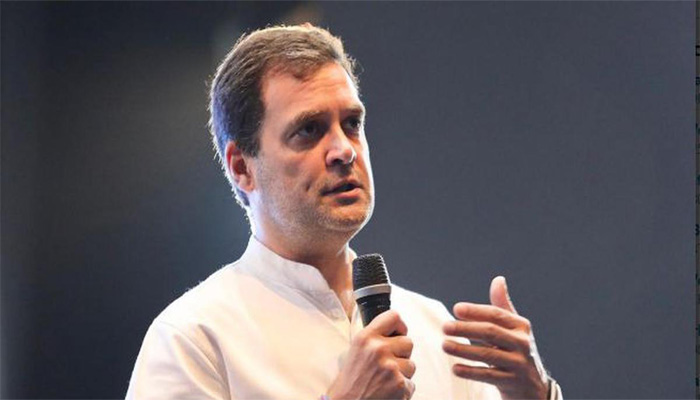 Rahul Gandhi hits out at Modi govt for 'filling pockets of its special friends' (Social Media)
Even after the Supreme Court has denied any postponement of the engineering and medical exams – JEE Main and NEET.  The debate is still on on holding the entrance exams during the COVID-19 pandemic. Congress leader Rahul Gandhi on Sunday said the government must listen to students seeking postponement of Joint Entrance Exam (JEE) and National Eligibility Entrance Exam (NEET) scheduled to be held in September.
The Supreme Court had earlier rejected petitions against holding the exams amid the coronavirus pandemic. A three-judge bench headed by Justice Arun Mishra said that "life has to go on" despite Covid and the court cannot put career of students in peril by interfering with the decision of the National Testing Agency.
ALSO READ: JEE Main and NEET 2020: SC Rejects Plea Seeking Postponement of Exams
Rahul Gandhi:
In a tweet, Gandhi said the central government must to listen to 'students' ke mann ki baat'  and arrive at an acceptable solution.
आज हमारे लाखों छात्र सरकार से कुछ कह रहे हैं। NEET, JEE परीक्षा के बारे में उनकी बात सुनी जानी चाहिए और सरकार को एक सार्थक हल निकालना चाहिए।

GOI must listen to the #StudentsKeMannKiBaat about NEET, JEE exams and arrive at an acceptable solution.

— Rahul Gandhi (@RahulGandhi) August 23, 2020
The Supreme Court order has led an online campaign for postponing the engineering and medical exams – JEE Main and NEET – during the COVID-19 pandemic. On Twitter, several politicians have joined the debate under the trending hashtags #SATYAGRAH_AgainstExamsInCovid and #StudentsKeMannKiBaat.
ALSO READ: JEE Main 2020 Admit Card Released at jeemain.nta.nic.in, Download now
Manish Sisodia:
Recently, the Delhi Education Minister Manish Sisodia also took to Twitter to voice his opinion on the issue. Asking the government to look at alternative modes of admissions, Sisodia wrote on Twitter that the approach of considering NEET and JEE as the only modes of admission is very narrow and impractical. As the educational institutes across the world are adopting newer ways for admission, why can we not consider them in India? he said.
JEE-NEET की परीक्षा के नाम पर लाखों छात्रों की ज़िंदगी से खेल रही है केंद्र सरकार. मेरी केंद्र से विनती है कि पूरे देश में ये दोनो परीक्षाएँ तुरंत रद्द करें और इस साल एडमिशन की वैकल्पिक व्यवस्था करे.
अभूतपूर्व संकट के इस समय में अभूतपूर्व कदम से ही समाधान निकलेगा. @DrRPNishank

— Manish Sisodia (@msisodia) August 22, 2020
ALSO READ: UGC Vs Students: SC To Announce Verdict Soon on Final Year Exams
Several others have also raised their concerns regarding these exams.
NTA:
The National Testing Agency (NTA), however, has already released the admit cards for JEE Main scheduled to begin from September 1. As per the official data, a total of 8,58,273 students have registered to appear for JEE Main. While nearly 16 lakh had registered to appear for NEET. Concerns have been raised over holding exams for such a large number of students amid the pandemic.
Stay tuned with the newstrack to get fastest updates.
Click @englishnewstrack to follow us on Facebook.
and @newstrackmedia to follow on Twitter.
Keep yourself updated with latest news through Newstrack App. To download App from Google Playstore visit here - Newstrack App