Incorporate UP model in vision-2030 doc: Akhilesh to Niti Ayog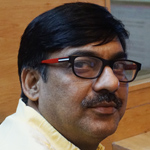 Sanjay Bhatnagar
Lucknow: Uttar Pradesh government presents an ideal model of inclusive and sustainable development which could be befitting to the country's projected growth and progress in the coming years,Chief Minister Akhilesh Yadav claimed.
'' What has my government done during the last four years could well be a case study for Niti Ayog..We have created a balanced model of growth in its vision document-2030,'' the UP CM said in his suggestions to vice-chairman of Niti Ayog Arvind Panagariya sent on Tuesday. Akhilesh Yadav, in fact, had been asked to give his views to be incorporated in vision document of the Government of India being prepared by Niti Ayog.
In a detailed letter to Ayog, Akhilesh pointed out that his government worked on twin principles- expedite the economic growth rate and ensure that the fruits of economic growth reach the poor, neglected class, women, rural folks , dalits, minorities and Divyangs- which enabled the UP government to exceed its growth rate as compared to the national average of growth. '' If you look at the development agenda and allocation of budget over the years, my government has already been working on the vision of 2030,'' he asserted.
Akhilesh's agenda vis-a-vis vision-2030 of Niti Ayog:
The world class infrastructure facilities and practical policies should go side by side in UP.
Metro projects in several UP cities and country's longest Expressway on one hand and rural electrification and innovative power generation initiatives on the other hand.
The infrastructure development in fields like irrigation, health and education are being expedited.
Sector-wise policies like Industrial policy, IT policy, Electronic manufacturing policy, Agriculture policy, Food Processing policy, Sugar policy, Solar power policy were prepared.
All the cities are being linked with fou- lane roads.
Conducive atmosphere for Industrial investment:
Along with the policies, a liberal atmosphere is created for investors to come.
Big companies like HCL, Toshiba, Samsung and organsations like Shiv Nadar Foundation, Tata Trust, and D R Mehta's Jaipur Foot company have come to UP because of flexible policies.
Emphasis on employment generation:
Policies aimed at job-oriented endeavours.
Skill development initiatives invited appreciation from all over the world.
Maximum engineering colleges and new medical colleges set up in UP.
Social Welfare schemes:
Food Security Act
102 and 108 ambulance services
Ambitious Samajwadi Pension Scheme, the biggest direct benefit transfer scheme by any country.
Women helpline 1090
Balanced Growth and Development:
Akhilesh says the UP has already set Sustainable Development Goals
Green technology- based development model .
First state to have comprehensive Solar power policy.
Sustainability encouraged by the principle of 'reduce,reuse and recycle.