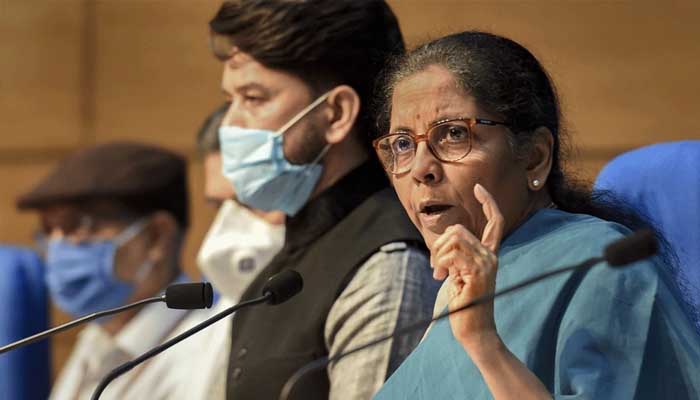 'He does dramabaazi, Nirmala Sitharaman targets Rahul Gandhi
New Delhi: Targeting Rahul Gandhi, Union Finance Minister Nirmala Sitharaman said that only talking to the workers will not solve their problem. On Sunday, the Finance Minister announced the fifth and last installment of the Self-Reliant India Campaign. During this, she was furious when she was asked questions about the Congress.
They call us dramebaaz. What about yesterday? That is dramabaazi," Nirmala Sitharaman targeted Rahul Gandhi.
She targeted former Congress president Rahul Gandhi while talking to journalists. She said that what will happen by sitting with the workers and talking. Instead of sitting with the workers and talking to Rahul Gandhi, why not ask your chief ministers for more and more trains to bring the workers? Isn't this a drama?
ALSO READ: Land, labour, liquidity & law will be our focus: FM Nirmala Sitharaman
Nirmala Sitharaman said that wherever the Congress-ruled state is there, the government of the migrant laborers should be brought home. Get as many trains as they want. He lashed out at Rahul and said that if Rahul wanted to help the laborers, then he would walk with them for some distance and then help them. Only wasted their time talking to them on the road.
The Finance Minister said that does the Congress want to claim that everything is right in their ruled states? I join hands with Sonia Gandhi and ask that in this time of crisis, help the government in solving the problem of migrant laborers.
ALSO READ: Delhi CM Arvind Kejriwal to provide financial aid to Construction workers
Stay tuned with the newstrack to get fastest updates. Click @englishnewstrack to follow us on Facebook and @newstrackmedia to follow on Twitter.