Election strategist Prashant Kishor Joins JD-U
New Delhi: Election strategist Prashant Kishor on Sunday formally joined the Janata Dal-United (JD-U) in the presence of Bihar Chief Minister Nitish Kumar ahead of the party's state executive meeting here.
JD-U spokesperson Sanjay Singh confirmed Kishor's joining.
"Now Prashant Kishor is a JD-U leader," Singh said.
The 41-year-old former UN official, who founded the Indian Political Action Committee (I-Pac), was tasked with running the JD-U's campaign during the 2015 Bihar polls after he parted ways with the Bharatiya Janata Party (BJP).
ALSO READ: Amit Shah's 50-year dream: Whistling in the dark?
After the success of the Grand Alliance, Nitish Kumar naming Kishor as his advisor for planning and programme implementation. He was accorded the status which was equivalent to a state Cabinet Minister.
However, Kishor's appointment as an advisor was challenged in the Supreme Court through a public interest litigation (PIL) filed by Rajesh Kumar Jaiswal.
The apex court dismissed the PIL stating that the Chief Minister had done nothing wrong in appointing him as his advisor. The bench headed by then Chief Justice of India, JS Khehar, Justice DY Chandrachud and Justice SK Kaul, also said that the C.M. is not an expert on all issue s and has full authority to appoint advisors for seeking suggestions on issues of public importance.
"He (Nitish Kumar) is Chief Minister. He can seek advice on various subjects of public importance. He can appoint anyone as his advisor and can pay them accordingly. The Chief Minister is not an expert who knows everything. There is nothing wrong in the appointment," the bench said.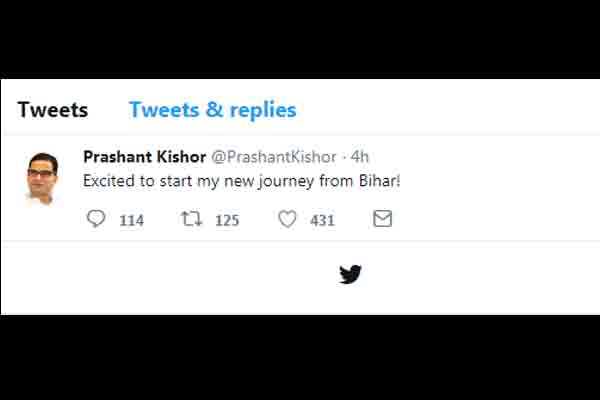 Election strategist Prashant Kishor to enter politics
Prashant has been election strategist to Prime Minister Narendra Modi, Bihar Chief Minister Nitish Kumar and Punjab Chief Minister Captain Amarinder Singh.
Kishor had formulated Prime Minister Narendra Modi' election strategy in the 2014 elections.
Taking to microblogging site Twitter on Sunday morning, he tweeted, "Excited to start my new journey from Bihar!"
Last week, Kishor hinted at his political debut while addressing an event at the Indian School of Business (ISB) in Hyderabad.
He had formerly worked with the United Nations for eight years and is also a public health expert by training.