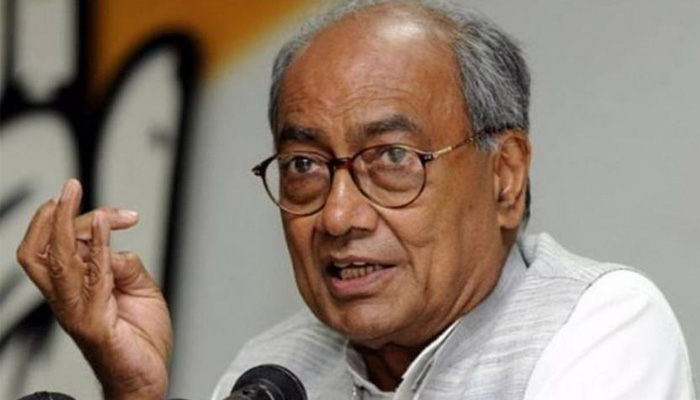 Digvijaya Singh slams Modi Govt, calls Aug5 Puja Muhurat 'Inauspicious'
New Delhi: Digvijaya Singh, veteran Congress leader, has targeted PM Narendra Modi, Home Minister Amit Shah and CM Yogi Adityanath on the pretext of constructing Ram temple in Ayodhya.
Digvijaya Singh tweeted and said, "The result of ignoring the beliefs of Sanatan Hinduism- 1- All the priests of Ram temple are Corona positive, 2- Uttar Pradesh minister Kamal Rani Varun's exile from Corona, 3- Answer State BJP President at Corona Positive Hospital. 4- Amit Shah Corona positive.
मोदी जी आप अशुभ मुहुर्त में भगवान राम मंदिर का शिलान्यास कर और कितने लोगों को अस्पताल भिजवाना चाहते हैं? योगी जी आप ही मोदी जी को समझाइए। आपके रहते हुए सनातन धर्म की सारी मर्यादाओं को क्यो तोड़ा जा रहा है? और आपकी क्या मजबूरी है जो आप यह सब होने दे रहे हैं?

— digvijaya singh (@digvijaya_28) August 3, 2020
Digvijaya Singh comments on BJP Leaders:
Targeting PM Modi, Digvijay Singh further increased the count by writing, "5- BJP's Chief Minister of Madhya Pradesh and State President of BJP at Corona Positive Hospital, 6- BJP's Chief Minister of Karnataka at Corona Positive Hospital. Modi ji, do you want to send the hospital to how many people by laying the foundation stone of Lord Ram temple in inauspicious time? '
अब एक और प्रश्न उपस्थित होता है। उत्तर प्रदेश की मंत्री की कोरोना से मौत हो गयी। उत्तर प्रदेश के भाजपा अध्यक्ष कोरोना पोजिटिव भारत के गृहमंत्री कोरोना पोजिटिव।

— digvijaya singh (@digvijaya_28) August 3, 2020
ALSO READ: Home Minister Amit Shah Tests Positive For COVID-19
Digvijay Singh appealed to PM Narendra Modi, saying, 'After hundreds of years of struggle, the sum of the construction of Lord Ram temple has come, prevent it from getting disturbed by your dogma.'
He targeted CM Yogi and said, 'Yogi ji, you should explain to Modi ji. Why are all the limitations of Sanatan Dharma being broken while you are there? And what is your helplessness that you are letting all this happen? I again request Modi ji to postpone the inauspicious muhurt of August 5.'
ALSO READ: 'Democracy is Damaged'; Rahul Gandhi Demands Mehbooba Mufti's Release
While questioning the Bhoomi pujan of Ram temple, Digvijay Singh wrote Amit Shah in one of his tweets. After this, Digvijay Singh started being trolled. Later Digvijay Singh said in another tweet, 'I apologize for the error. Amit Shah is the Home Minister and not the Prime Minister. Sorry.
Stay tuned with the newstrack to get fastest updates. Click @englishnewstrack to follow us on Facebook. and @newstrackmedia to follow on Twitter.
Keep yourself updated with latest news through Newstrack App. To download App from Google Playstore visit here - Newstrack App